Looking to enhance your restaurant's Instagram profile with stunning photos? Look no further than AirBrush's suite of Retouch tools. Designed to deliver professional-grade edits, these tools are perfect for sprucing up your foodie photos for social media platforms.
There's no need to settle for subpar photos when showcasing your delicious dishes. Access a wide range of easy-to-use tools specifically curated for foodie photography and effortlessly transform your pictures into Insta-worthy masterpieces that light up your feed.
Are you ready take advantage of our powerful editing tools to elevate your visual content and build a strong online presence? Keep reading to learn how!
Details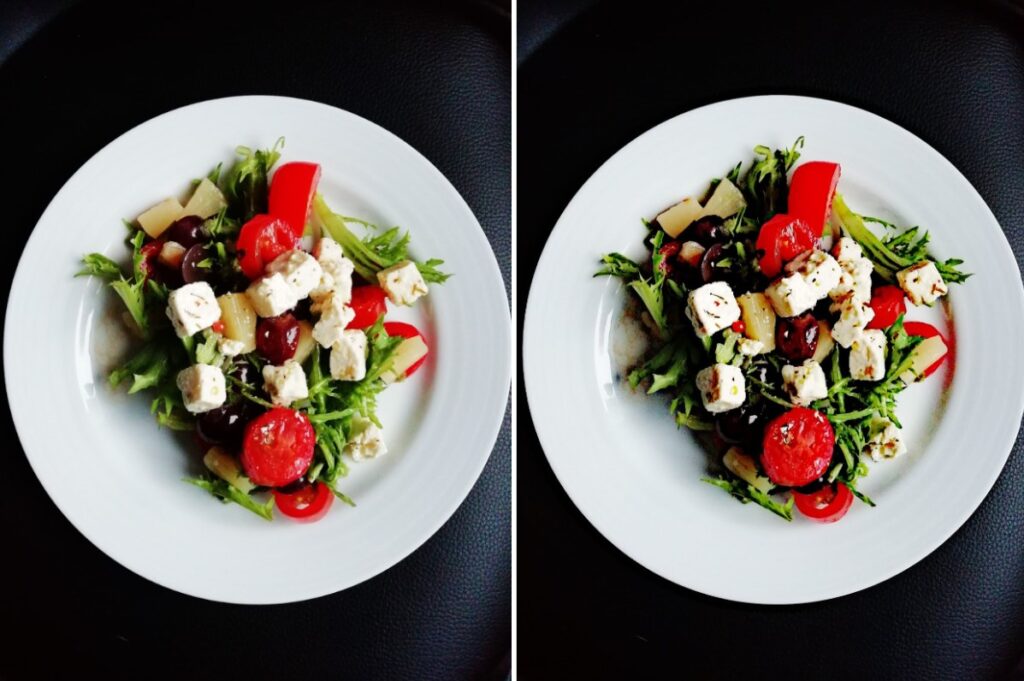 Depending on the camera you have access to, you can find that sharpness is lacking in your images. This is an important element to perfect as you may be taking these photos in dim, ambient light. To enhance a professional edit, the Details tool can sharpen up the finer points of a photo. This allows potential customers browsing your Instagram page to get a mouth-watering look at your dishes.
Skin Tone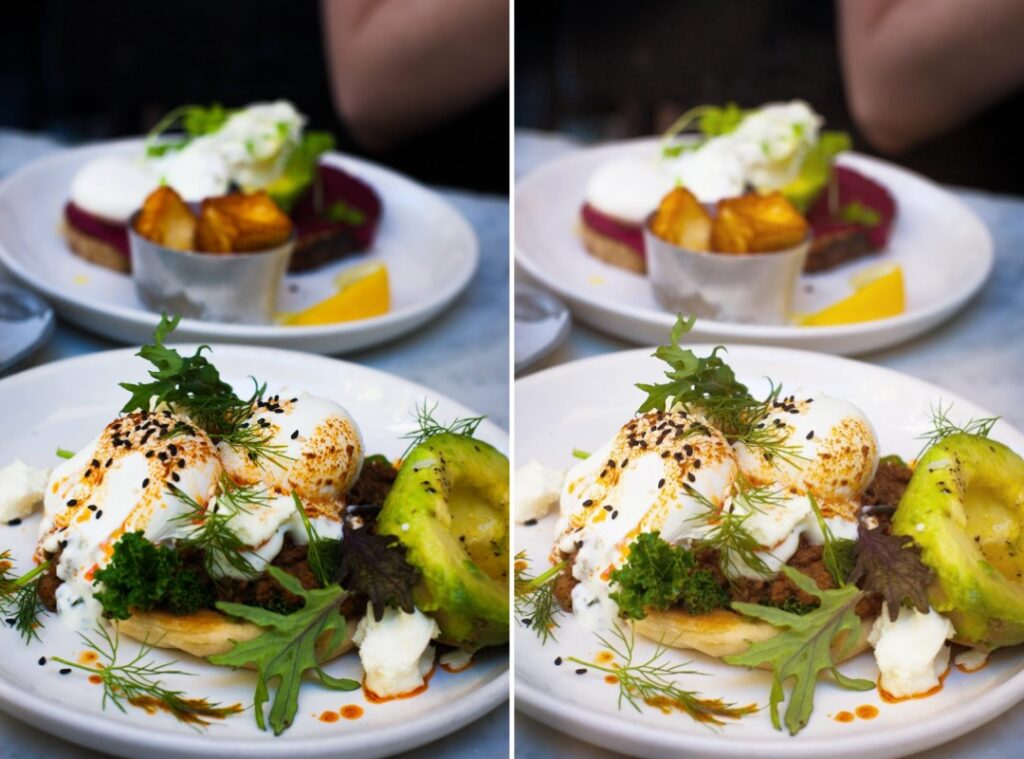 For an instant elevation of your photos, you can warm up or cool down the colors in your professional edits with the Skin Tone tool. If you serve your menu in romantic low lights, the richer Skin Tone can add some depth to your photos. Alternatively, a lighter or peachier Skin Tone can complement a dish photographed in more minimal or modern settings, especially in the daytime.
Brighten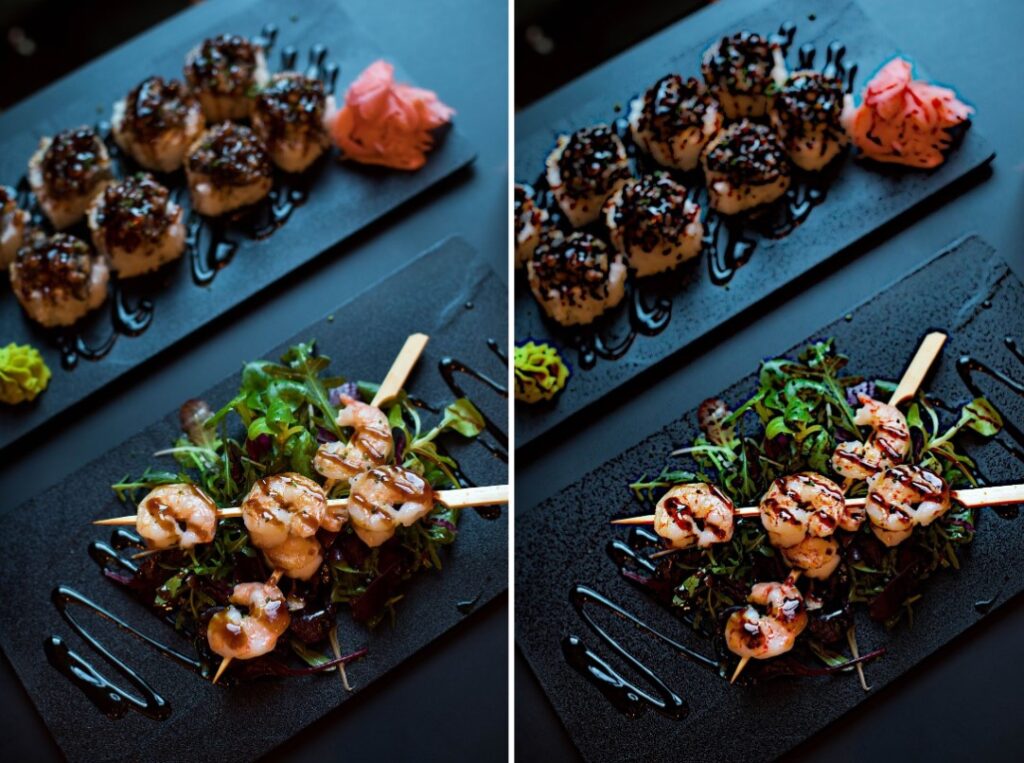 Retouch can be your all in one photo editor. When it comes to color saturation and increasing contrast, the Brighten feature packs that one-two punch. Unlike traditional saturation tools, our Brighten feature allows you to swipe and choose exactly where you want the effect. And like we said, it not only enhances the color of your photo but also works to highlight details for a professional edit.
Smooth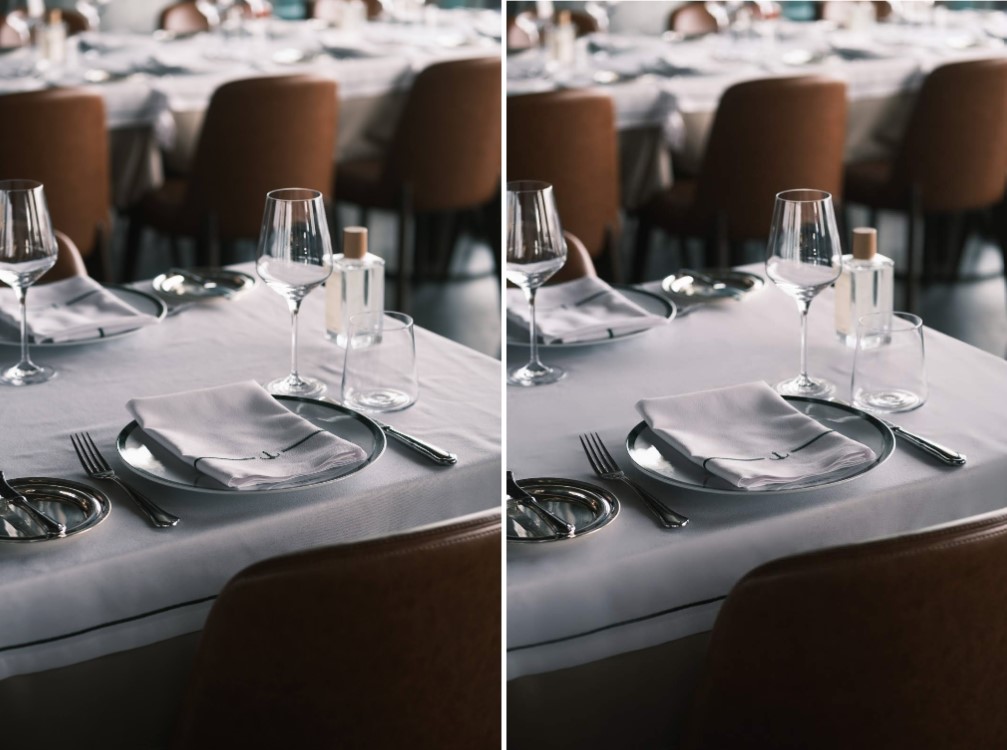 If you're just starting out with creating your own promotional visuals, it's easy for some details to slip through the cracks. Specifically, forgetting to steam or iron out the wrinkles in tablecloths or napkins. For what should be a professional edit, nothing looks worse than having an immaculately presented plate set down on a wrinkled and tired-looking tablecloth. The Smooth tool helps you digitally blur those pesky creases out of existence!
Reshape

We'd never advise misrepresenting your portions in your restaurant's Instagram profile. So if you were unable to properly capture the proportion of the food you serve, the Reshape tool can rectify the issue. When selected, decide if you want a light touch or heavy and then swipe inward out outward, depending on how you want to reshape the food elements. With this feature, you can truly represent the hefty or gourmet portions served in your restaurant.

Not only is AirBrush, the easy photo editor, making professional edits easier and more accessible for the newbies out there, but we've also got all-in-one tools that can handle a major chunk of the editing on their own. Retouch is like the dependable SUV in our fleet of editing tools. Once you're ready to post on your restaurant's Instagram profile, tag them with #AirBrushApp so we can find them. Then, stay on Instagram and follow us @AirBrushOfficial for our latest tips, tricks and hacks!