What's more gorgeous than the golden leaves of autumn? Absolutely nothing! Sometimes that chill in the air and early sunsets can get us a bit down. In fact we are heading into Yellow September, a campaign initiated in 2015 that highlights the importance of mental health and self care. So, for those fall-time blues we prescribe a very full dose of self-love. In honor of Yellow September we picked our very favorite Makeup tools to turn that frown upside down. It helps to see ourselves as the gorgeous visions we see in our heads and not in the sweatpants we've all been wearing a bit too much. So get on out, snap a few in front of those golden leaves then make your way back into your netflix cocoon while we teach you the basics of Airbrush fall make up. (p.s. We're soooo into Lucifer. More on that later…)
Golden Hour
So get this: you're outside, amongst the glory of mother nature getting her leaf highlights that she loves to do this time of year. Your friend takes the most gorgeous picture of you just basking in that glow. What we have on our hands now is a cute pic. Right? We can just see it as that. OR…. Maybe we can activate a little shift in perspective, a great way to perk you up when things get tough. So now instead of just a cute pic what we have is a blank canvas! And the Airbrush pre set Makeup Filters are your art tools. Let's honor Yellow September with a little face painting, shall we?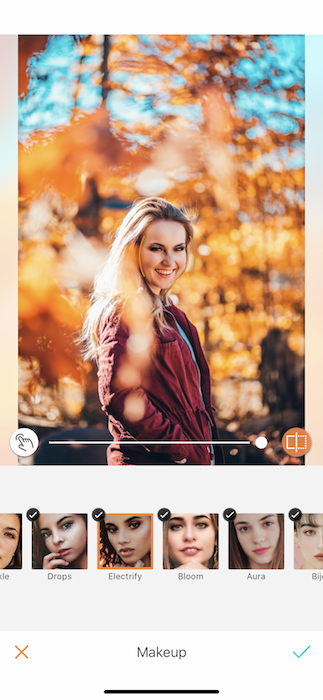 Simply start by tapping the center Makeup tab on the bottom dock. There you'll see over twenty different pre-set Makeup filters. A smokey eye, bronzey lip, & a hint of highlight? Try Electrify! For a soft brow and a slightly punched up lip check out Glow. Or if you really want to go for it try the gorgeous Drama filter which gives you exactly that a lil drama. For a deeper dive into the Makeup tool see out post on How to use: Makeup
Not an off the rack girl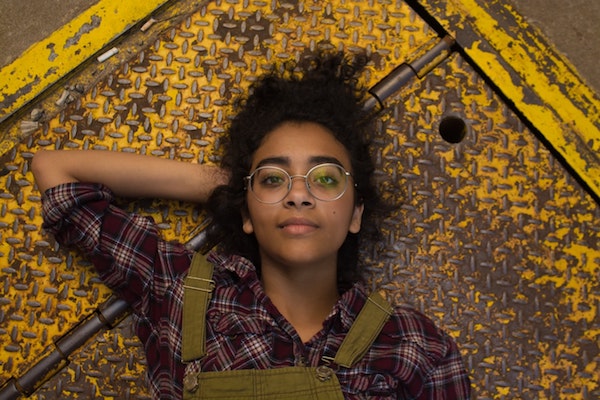 Sometimes you just want to feel like an original. You know? (While we always think of you as 100% a special start amongst star) Don't you fret, we've got your back! My Look allows you to mix and match the Makeup tools to create your own custom preset. Your very own recipe for instant gorgeousness. This way you snap the pic and put your face on faster than you can say waterproof mascara.
These lips were made for smooching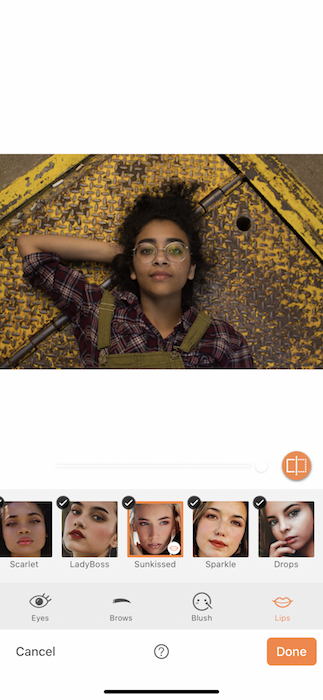 The lips are the welcome mat of the face. Stay with me here. Lips are the perfect opportunity to show the world that you mean business or you know how to have fun! The My Look feature allows you to test out the lip color from each of our preset makeup filters to find the right one for you. Whether it's the peachy nude of Sunkissed or the fiery red in Ladyboss. We've got every shade in the book.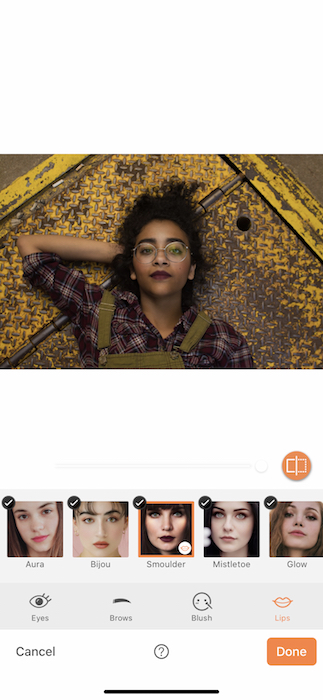 Now listen, we think of Goldilocks as a hero around here. Sometimes things are a little too much and we just want half a bowl of porridge. You can adjust the intensity of each makeup filter to fit you just right. Take the Smoulder feature. It's all the dark lady realness you could ever ask for but let's say you just want a hint of that smokey essence. Use the toggle to adjust the density of the filter and you'll be saying me? Smouldering? More like sizzling.
Mix and Match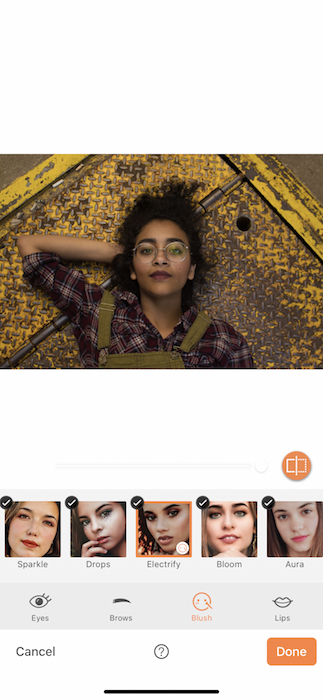 I know, know, you're loving all of these and we are Blushing hardcore. Speaking of which who doesn't love a rosey cheek? Or a double dose of highlighter to get those cheekbones ready for a self-care Sunday with your friends. A great way to honor Yellow September. Use the same skills you got with the lipstick round and find your perfect formula.
Beauty is in the eye of the beholder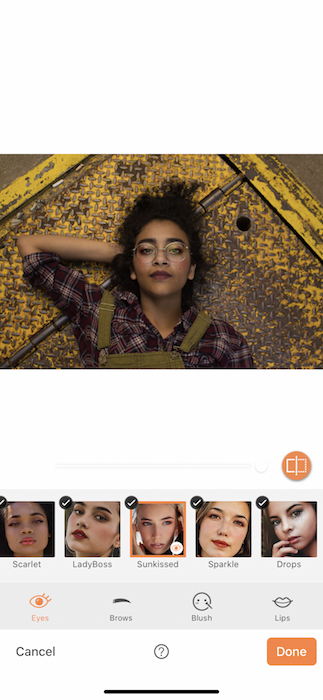 Eyes and brows make the world go round, amarite ladies? The options are endless when it comes to eye treatments and brow vibes. Now you can try a stronger arch or a softer point with each of the presets. Play with one by one of the filters to find the perfect brow shape without having to see a single tweezer.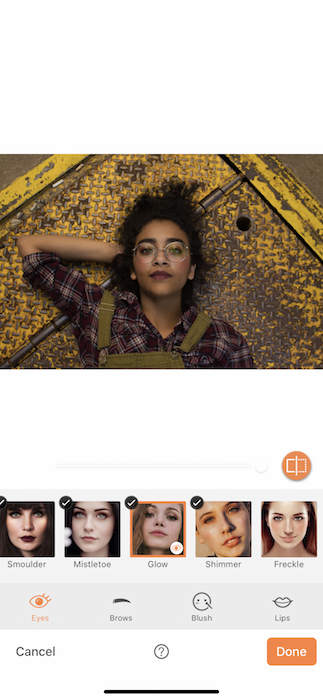 Eyes are the window to the heart! Yours is gorgeous and we need the world to see it especially during Yellow September. Nothing says fall like the bronze shine of the Glow filter, right? Or maybe take it up a notch with a dark liner like the Sunkissed filter sets up for you. The possibilities are endless!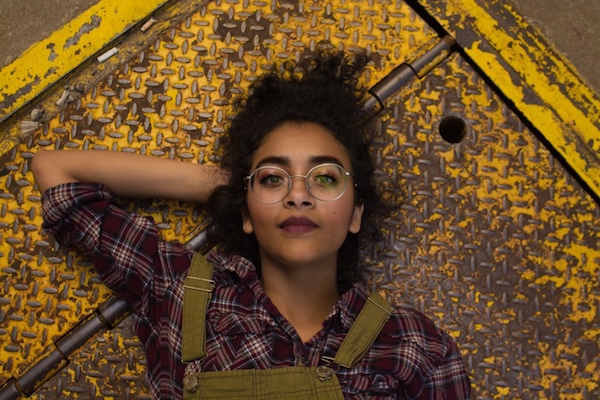 There you have it folks! You're now a professional cosmetologist and all without having to sing Beauty School Drop Out. For the masters course in combing all these incredible tools see out post on Combining Makeup. Now that you're bulked up on your AirBrush skills make your way into those fall vibes. Make sure to use #AirBrushApp hashtag to be featured on @AirBrushOfficial! You'll have the world falling in love with your pics.