We are obsessed with AirBrush, that's a fact. Have you tried the app's makeup?! Truth is, with the day-to-day running it's hard to always have your makeup on point. And is usually on these days that we find an instagramable place, or there's good lighting to take our picture. So what should we do? Miss an opportunity to a great photo just because you didn't do your makeup that morning?! Or you take the photo and figure out later how to make your eyebags disappear?!
If you chose the first option, I'm pretty sure you haven't been reading me and the rest of AirBrush's squad. However, if you picked out the second one, you chose right.
So, stay with me. I wanna show you this mini tutorial that I prepared specially for all of us, women who don't have time (and sometimes, energy) to do their makeup everyday.
Let's check it out!
AirBrush has different makeup options ready to be applied in a click. It even has an option where you can create your own look by choosing your favorite eyeshadows, lipstick, etc… (called "My Look", duh!) If you wanna know more about it, click here.
There are makeup options for every style, but today I'm gonna talk about one specifically. "Glow". This makeup is suitable for day or night. It's the perfect option for that photo with your new boy you really want to post so everyone knows you're dating now but your makeup isn't as flawless as you'd like it to be. ?
"Glow" Makeup
With the boom of highlighters, this "Glow" makeup is the perfect option for any style and any situation. A selfie on the way to your job, or in the nightclub mirror with your friends. It's a very versatile -and natural- look.
Besides being versatile and natural, you can control the intensity of the makeup, so it's 100% up to you how light it is (or isn't). This makeup is part of the AirBrush Black / Premium features, which you can use if you subscribe for 1 month, 3 months or 1 year. So, what are you waiting for?!
Applying "Glow"
Applying the filter is pretty simple:
Open your photo in the AirBrush app: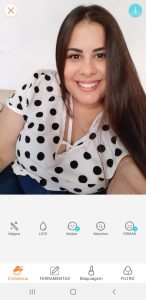 Second, go to "Makeup", and look for "Glow" and click on it.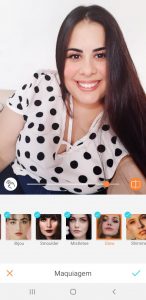 Choose the intensity that better fits you.
To intensify the "Glow" on your photo, go to the "Retouch" section and look for the "Highlighter". If you're not sure where to apply it, well, just use it as you would use the highlighter powder (I like to use it on the nose, and up to the T-zone).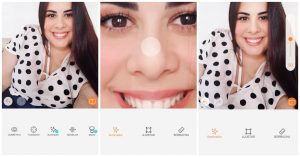 To finish up, I applied the "Vision" filter from the "Cinema" folder. (My current favorite one ?)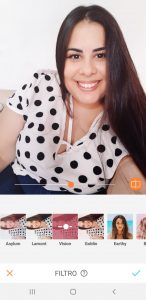 Final Result
Well, here's the before and after the "Glow" makeup: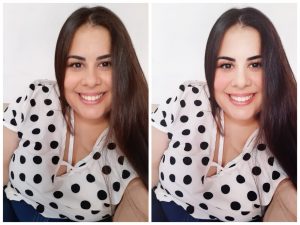 I hope you liked the result! I really loved it and wish I could use this makeup in real life! Use all our tips on your photos, post your photos on Instagram and tag us @gabibucker, @airbrush_br so we can check out your results!
Kisses and until the next post!