Hi, people!
It's been a while since the last time I wrote here. So, what's better to re-start with the right foot than to talk about love!
Today I stopped to think how much we talk about mothers from the children's point of view, but how little we do it from the mom's perspective. So, this blog is gonna be from mom to mom, to "dad", to pregnant… to all mothers!
From mother to mother
There's an advice I give to every woman that tells me they are pregnant or that want to have kids: "Seize every second and record everything, because time flies!" And it's true, in a blink of an eye, your kids are already in college!
Whoever follows me on Instagram (@gabibucker) know that I don't really like photos (lol jk). I take photos of everything, all the time. Honestly, I don't think there's anything better than to look through old photos and videos and see everything that's happened since.
Moms that inspire
Thinking about all this, I'd like to present you my "Super Moms" pack: a list of mommys that talk, post and comment about their day-to-day on social media using AirBrush to edit their photos.
The first one is @alineuz, a mom that overflows love and creativity in the same amount. She talks about her day to day, the first time mother routine. I'm nuts about the feed she's built! That's why, to honor her, I chose a photo that shows all her love for "Bentodelicia" using the "Glossy" filter from the "Earthy" package.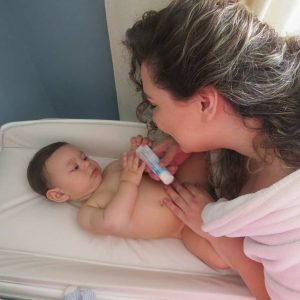 Our second mom is @paisdolucca. Besides pretty, Ana has an amazing voice. I'm hypnotized by her voice every time I watch her stories and videos singing to baby Lucca, and don't even get me started with this woman's style! It's so much style that I have to double check if what I'm watching is really true. I'm sorry people, but I couldn't choose any other photo (it must be the sentimental side of me talking). But you really can't deny this photo is wonderful? Ana edited by using "Rosy" filter from the "Earthy" package.

To end on a high note, I brought you @mamae.combossa. Leticia is divided between being a mother of two and the amazing looks she creates. She has this wonderful project on Insta where she talks about seizing everything we have and to let go of all the things that no longer form part of our lives. It is worth to watch! She inspires me so much, as a woman, as a mom, as a human being. Not to mention Maite and Daniel are the cutest! So, the chosen photo to honor this mom couldn't be any different from the others: and exchange of love between the mother and their kids. I used the "Glossy" filter form the "Earthy" package.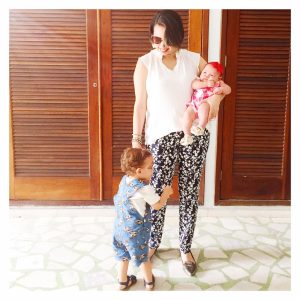 I think we already have a great pack of mommys, hah?!
And there's still more news!
The blog is re-starting full of news and promotions! So, let's do something… take a beautiful picture with your baby, edit it using any AirBrush filter that you like, and share it using the hashtag #AirBrushMoms, tag @Airbrush_br and participate to win a full year of AirBrush Black/Premium! You don't want to miss out on this one!
I wish you a very happy Mother's Day to every mom in this world! Let our love be capable or rewrite the story of other people. Being moms is being a mirror, a human, is being exactly who you are, spreading love.
I'm very grateful for the lives of my grandma, my mom and for the gift of being a mother.
Kisses and until the next one!