What better time to try to honor the temple that is your body than at the beginning of a brand new year. We all want to accomplish so many things when it comes to resolutions and goals but sometimes all we really need is to give our body a reset. Tons of veggies, lots of water, and a healthy dose of vitamin D can do a body good. One of our favorite clean diet snacks is a fabulous slice of avocado toast, though around here we call it the AirBrush-Cado Toast. Check out our recipe below then find out how to edit it to perfection. Now if that's not good NYEnergy we don't know what is!
The AirBrush-cado Toast
Ingredients
1 egg
1 handful of spinach leaves
½ teaspoon fresh lemon juice
⅛ teaspoon Kosher salt
⅛ teaspoon freshly ground black pepper
1 (1 oz.) slice whole-grain bread, toasted
½ teaspoon extra-virgin olive oil
Toppings: Maldon sea salt flakes, red pepper flakes
Directions
Toast your bread of choice.
Place your avocado onto a cutting board and sprinkle with lime or lemon juice and seasonings.
Mash with fork or potato masher until you've reached your desired consistency.
Spread your mashed avocado mixture onto the toast then top with whatever toppings you prefer and enjoy!
And now that you've got your toast… Let's get to editing!
The Edit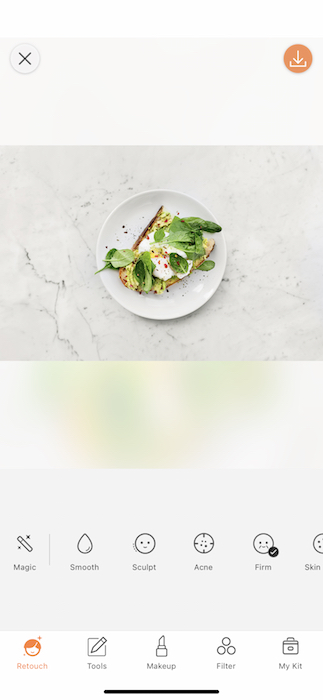 Just like your new clean diet, you gotta trim the excess! Head over to your Tools Tab.
Open up your Crop Tool and find a collection of preset Crop Ratios ready to go.
For today's edit we're going to use the 1:1 ratio for a perfect square post.
You can drag the Cropping Frame as much as needed in order to frame your delicious creation perfectly.
Tap the check mark on the bottom right when you're ready to save.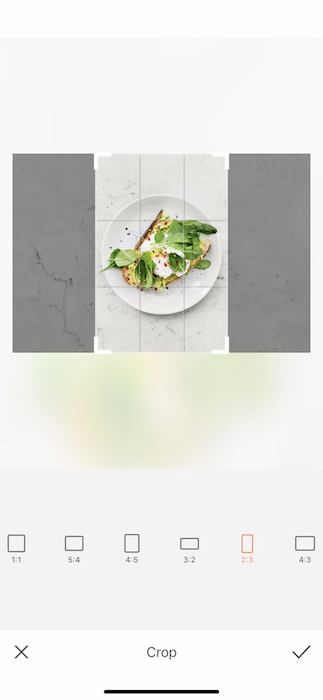 Enhance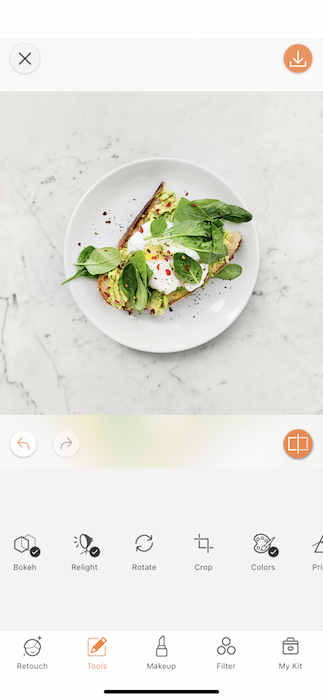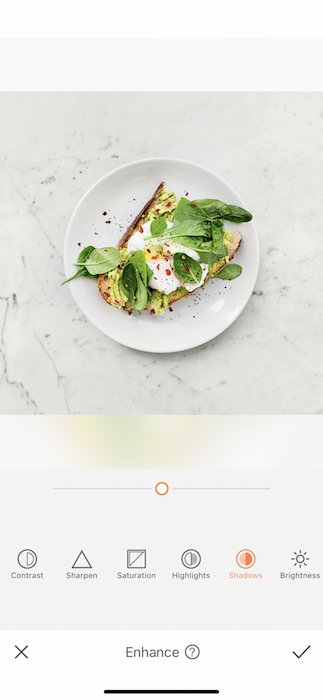 With your Enhance Tool you can make a variety of adjustments from changing the Contrast to enhancing the Sharpness.
For today's clean diet edit we'll start with a slight adjustment to the shadows to increase the drama.
Temp Check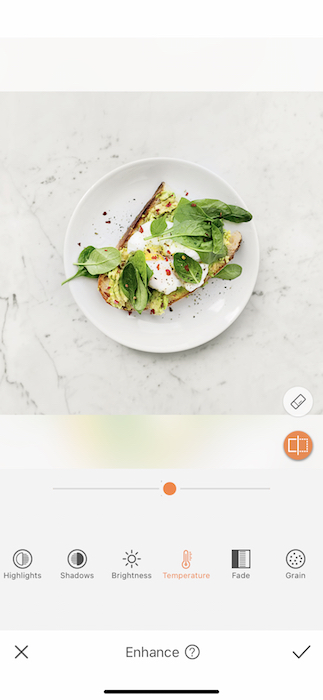 A good warm meal deserves a good warm edit, even on a clean diet.
Play with your Temperature Tool to turn up the heat on your next picture edit.
Using the toggle, you can increase the Temperature of the image by dragging to the right and likewise to cool by dragging to the left.
Get Filtered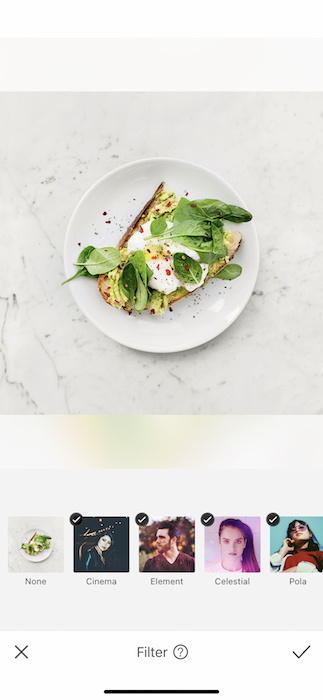 Getting Saucy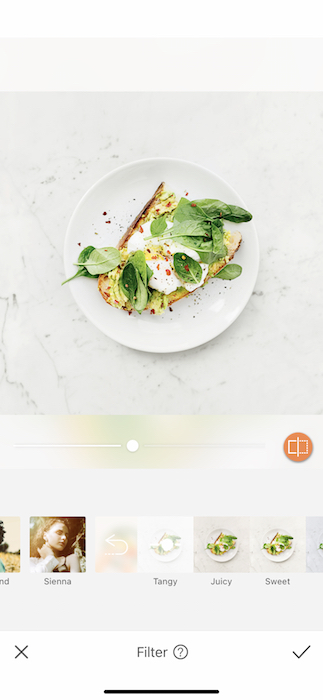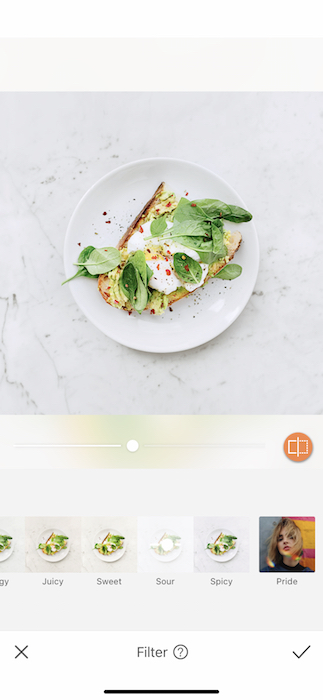 You can tap each filter to figure out which is the one for you and your new avocado baby.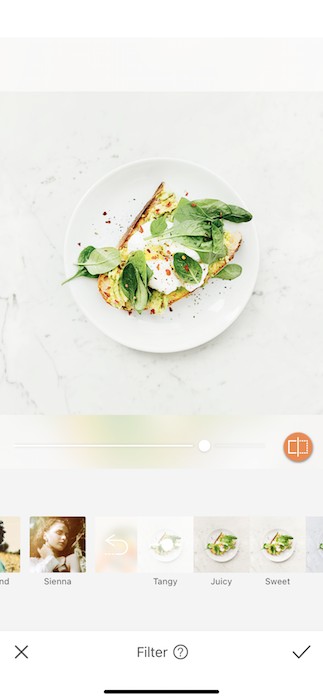 Once you've found the right Filter you can adjust the strength by dragging the toggle from left to right. Right to increase the strength, left to decrease it.
If at any point you feel lost you can tap the orange Before Button on the bottom right of the image to see where you started before all this editing happened.
Once you're done tap the check mark on the bottom right.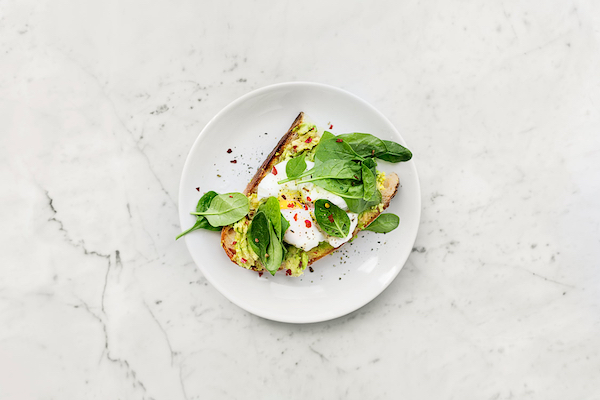 Voila! You've made yourself a perfectly balance meal and edit! You're about to feel so fresh and so clean with your new clean diet and edit plan. Don't forget about your friends at AirBrush! Tag #AirBrushApp to be featured on the @AirBrushOfficial IG page and make sure to check back for other fun editing tutorials.