Now we may not all get swept away to Paris for work but that doesn't mean we can't live our best french girl fantasies. Today we'll be channeling our inner Parisian and using Airbrush's frenchest features to create a total cool French girl vibe. We won't get up to the trouble Emily did in Paris but we will be ready to fit right in with the in crowd. So let your hair down, grab a croissant, and get ready for a trip to Paris Allons-y!
Film Noir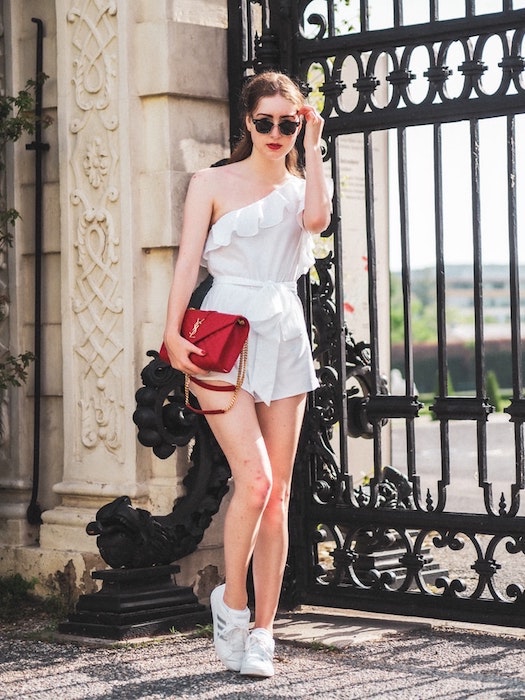 Our first step to French girl cool is to get some film noir vibes. A lil moody, a lil dark, but still effortlessly cool. Start with your coolest, straight forward pic and head over to your Tools tab. There you'll be priming our picture with the Bokeh tool. The bokeh tool will blur out the background to create some depth.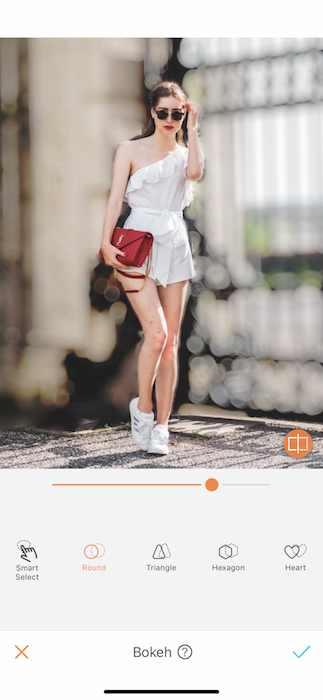 You can use the toggle at the center of the image to adjust the tool strength. Remember that to be French cool you need to be effortlessly cool. Once you've created the right amount of depth take yourself to the Enhance tool tab.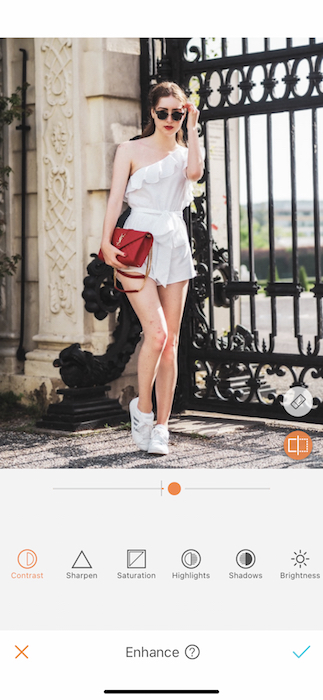 We will eventually take this picture into black and white so we want to make sure we set that filter up for success with some minor adjustments. Start off by raising the brightness just a bit to make sure details don't get lost. You'll do the same with the sharpen tool.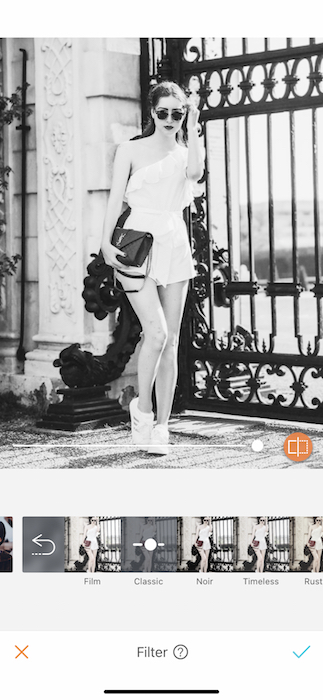 Now we're ready to play with some filters. The B & W filter group has just what we need with the Classic filter. The moody black and white is perfect for our French vibe. You can adjust the strength of the filter using the toggle on the center but in this case we recommend going full throttle.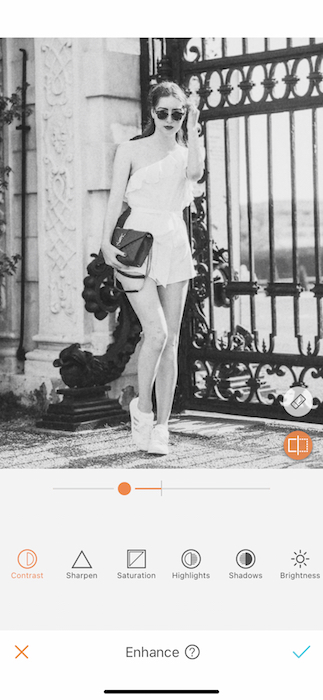 Are we done? NOPE. Take yourself right on back to the Enhance tab for some finishing touches. Just in case you feel your picture is still lacking a little mood we got you covered with the grain feature. You can play around with the strength until you see if have that moody, vintage feel we're looking for.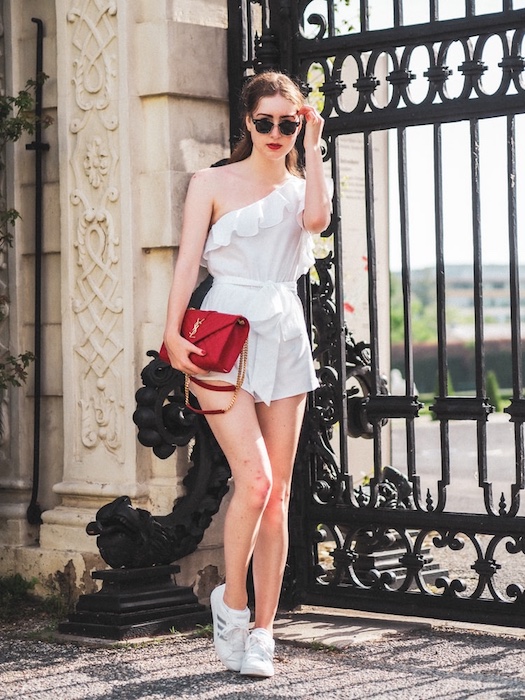 There you have it. Our first step to Paris girl fabulous.
Effortlessly perfect
The true essence of a cool French vibe is effortlessness. You gotta act like it ain't no big deal that you look drop dead gorgeous in your pic. So, #1 is pose like you really didn't even know the camera was on you. Next scroll to your Highlighter tool on your Retouch tab.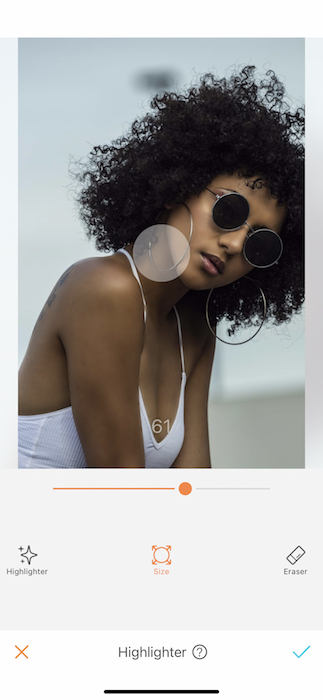 Next adjust the size of the Highlighter brush to fit the area you'll be highlighting. Did you end up outside the lines? Use the eraser to clean up your shiny mess. No shiny messes in Paris. We think?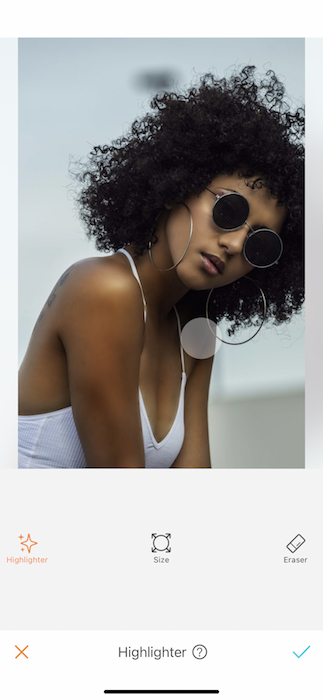 Remember, you can zoom in and adjust your brush size to get to all the details you need.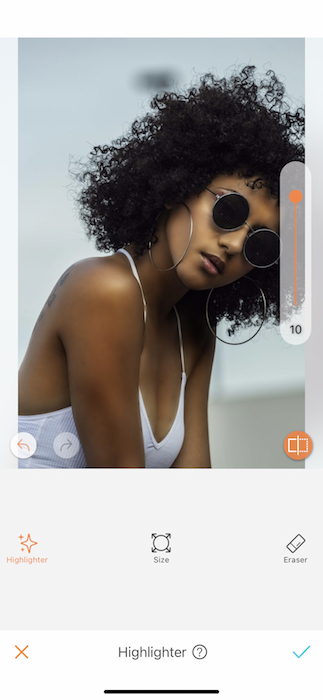 Once you're done covering the area you can use the toggle on the right hand side to adjust the strength of your Highlight.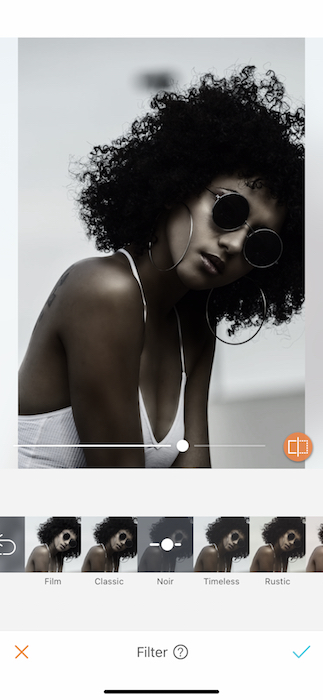 If we don't tap into some filters then what're we even doing here. Head right back to our B & W filter group and this time tap on the Noir filter.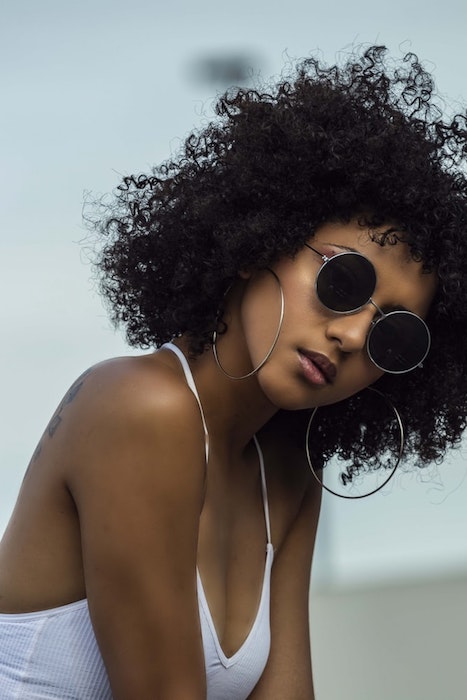 And just like that you went from eager American to devil-may-care cool French femme.
Le Paris de résistance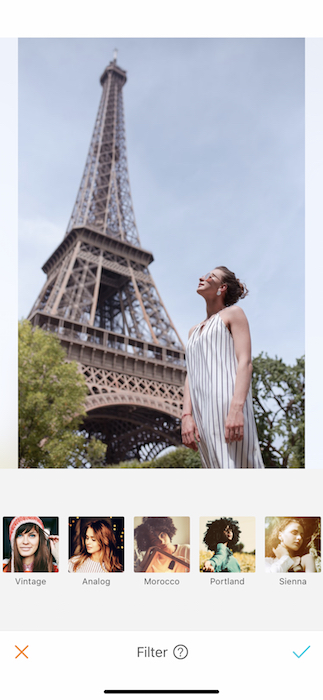 Now, if you make your way to Paris you have to get a pic in front of the Eiffel Tower. But, how do you make sure your pic is less tourist-y and more alons-y!? You're about to find out. We're going to kick things off where we usually end them on your filter tab. In the Morocco filter group you'll find the MAR-2 filter. The perfect polaroid vibe for your cool, vintage french vibe.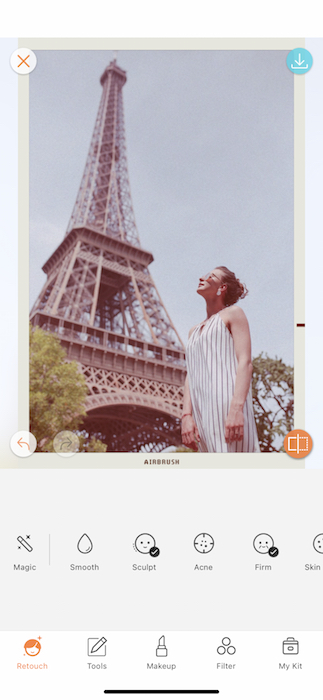 Once you've Morocco'd your pic you're going to save by tapping the blue check mark then head right back to the filter tab. We're going to double filter with the B & W filter group yet again.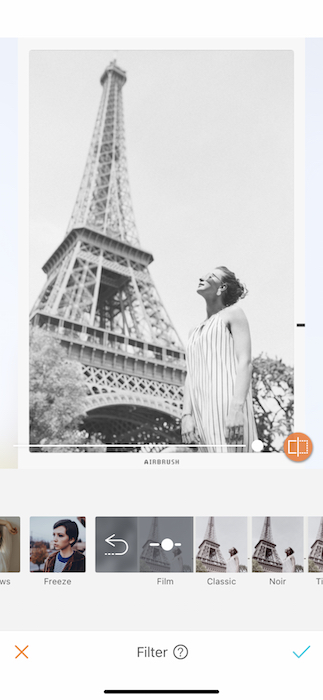 Film is the perfect filter for the job! Adjust to your liking then move on back to your tools tab. We're moving quick today, y'all!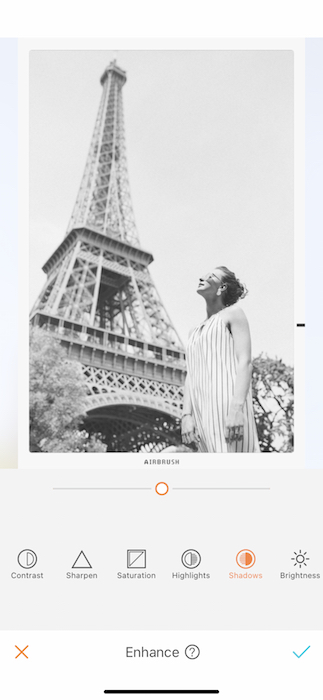 Creating the perfect black and white, effortlessly chic picture is an art within itself. That's why we're using the fine tools of the Enhance tab to make sure we create a masterpiece. Play with the shadows for a more drastic contrast then add a little grain to make it the right vintage mood.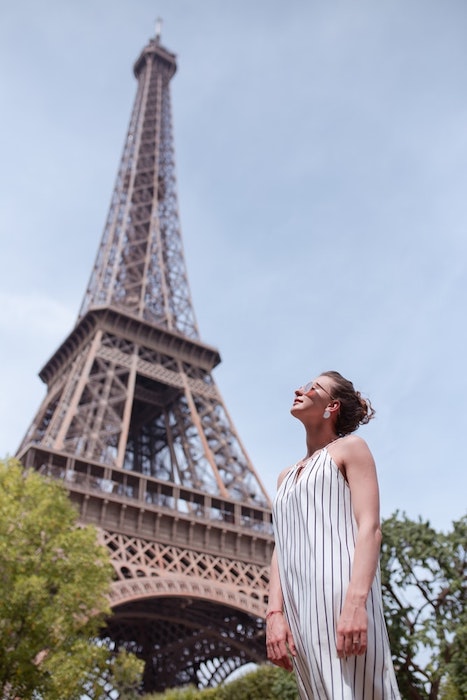 Voila! (can you believe we waited till the end for that one) You're now a super cool french girl and not a loser named Emily. Sorry to all the Emilys. Are you ready to take one the streets of Paris? Put all your new skills to use and make sure to share your edited image with the AirBrush app on Instagram at @AirBrushOfficial! Follow us for more content, video tutorials, and a chance to be featured on our profile by tagging the #AirBrushApp hashtag.