We all know the "Bokeh" effect is one of favorites. But, have you considered using the "Bokeh" effect to your selfies? If you answered no, then stay with me and read all the tips I have for you. And, if you don't know what I'm talking about, click here. There's another blog post where I talked about all the ways you can use "Bokeh". But if you are faithful AirBrush blog reader, you probably know what I'm talking about, right?!
Summing up.

If you go to the "Tool" section, you'll find the "Bokeh" effect. Basically, it is used to defocus on certain areas of the picture, so others can stand out. This effect isn't used as often in selfies, especially those from day to day: like that selfie in the college bathroom, or the one on the bus seat on the way to work, or the one while you wait in the dentist's office, and so on! That's why, thinking about this, I have some basic tips for you.
Challenging my friends.

I, in particular, am a person who doesn't take many selfies, so I asked a friend to take a selfie on a random moment from day to day and send it to me so that I could edit it and make it -even more- awesome!
And now, I'm gonna show you how the "Bokeh" effect combines perfectly with not-so-glamorous-selfie-moments.
Vamos conferir?
The selfie is from @alesimonatto, she is so damn pretty that she doesn't need to make a lot of effort to take nice photo.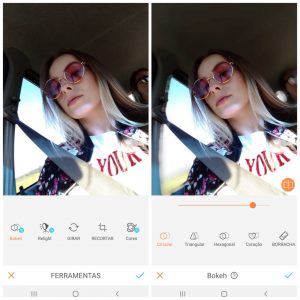 Besides the "Bokeh" effect, I also used "Relight", which is an incredible AirBrush feature (that Thay has already talked about in another blog post). And for the final touch, I applied the "Sweet" filter from the "Blush" folder.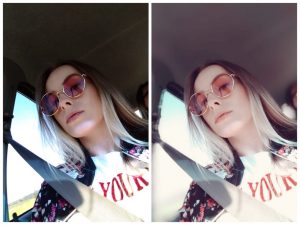 I'm gonna make a pause right now, 'cause this selfie left me speechless!
I'm gonna challenge you!
We all have a forgotten selfie in our gallery, so go ahead and look for it. Edit it using all the amazing tools AirBrush has to offer, including the "Bokeh" effect, obviously! And don't forget to tag us on Instagram @airbrush_br ! We'll love to see your results!
Kisses, and until the next one! :*