Low and behold the holidays have arrived! With time movin' around as fast as it is and all of us spending our days in various sweatpants, who could possibly have it together to get a holiday card out in time? Absolutely no one. That's why we've got just the holiday hack for you to come out of this Yuletide marathon smellin' like cedar pine. These quick tips will take your last "good pic" and give it a holiday makeover like you wouldn't believe. So, get your stretchiest pants on, warm up your favorite phone finger, and get ready to make some holiday photo magic with AirBrush.
On the first day of Christmas…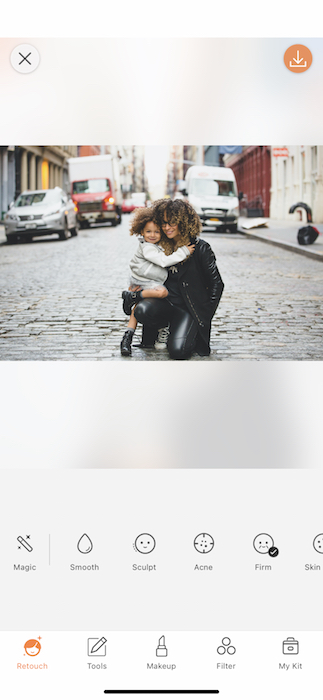 My true love gave to meeee a cropped pic cuz he is amazingggg. Ok well that wasn't our best rhyme work but you get the deal. Our first step in Santa's photo workshop is to give our pic a lil Crop. This is a two part holiday hack. Why? Because it refreshes the pic a bit in case anyone's seen it already and also will help make sure the picture is full, bright, and full of all the holiday love you could ever need. The great thing about the Crop Tool, which you can find on your Tools Tab, is that it comes with preset ratios for all your social media/printing needs. If you want to be in control of your own photo destiny look no further than the Custom Feature which allows you to change your Crop dimensions for your own custom crop.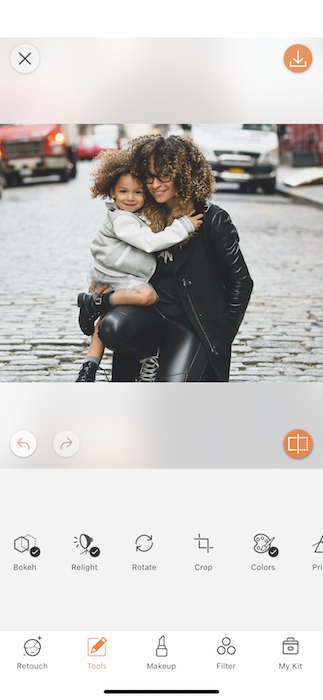 Now that we've got our newly cropped pic we can stay on the Tools Tab and find the Background Tool.
Background check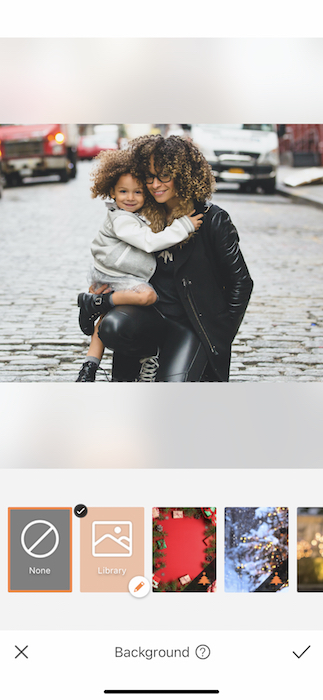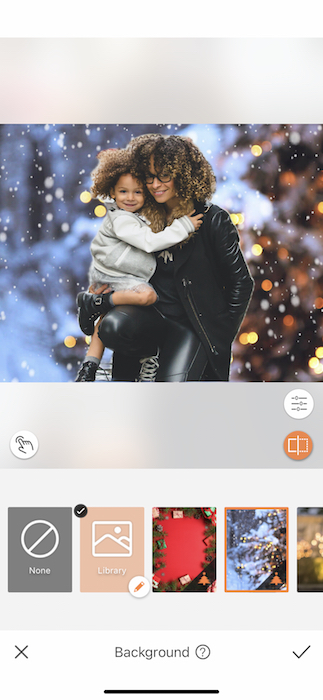 The Background Tool is holiday hack central. Here, you'll find all sorts of amazing Backgrounds and even a Custom feature which is included in your Premium Account. Today we'll be sportin' the new Holiday Backgrounds to make our holiday card picture perfect. You'll find 3 gorgeous Holiday Backgrounds to choose from plus one extra special one for NYE. Between Xmas Present, Snow Xmas, & Holiday Lights you really couldn't ask for a better selection.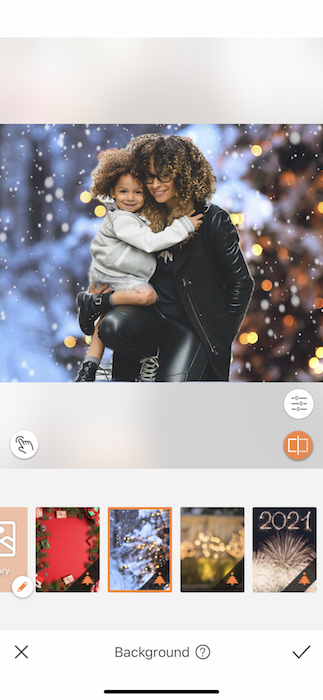 We're going with the fantastical Snow Xmas option first. Once you've chosen your Background, you can tap the white button on the bottom right of your image. This will take you to the Adjust Tool which will allow you to adjustyour holiday card to be as realistic as possible.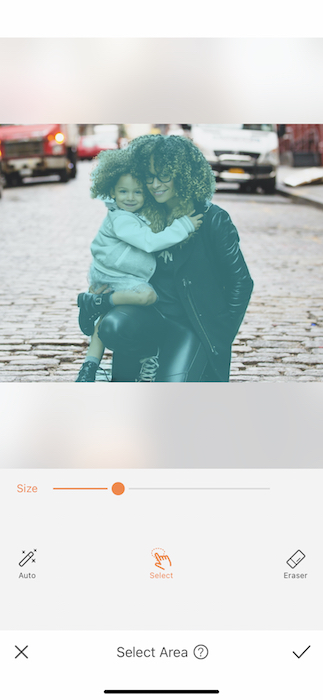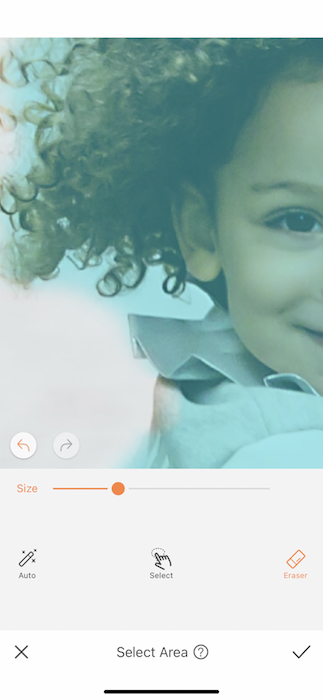 You can use the Blend feature to make your original image match up to your Background's color story. You can use the Edge to shave off the little remnants of the original image, and you can use the Blur to create some distance between your focal points and the Background. Sometimes you end up with a little more than you bargained for. You can tap the white button with your finger on the left side of your image to manually select the surfaces you do and do not want on your image.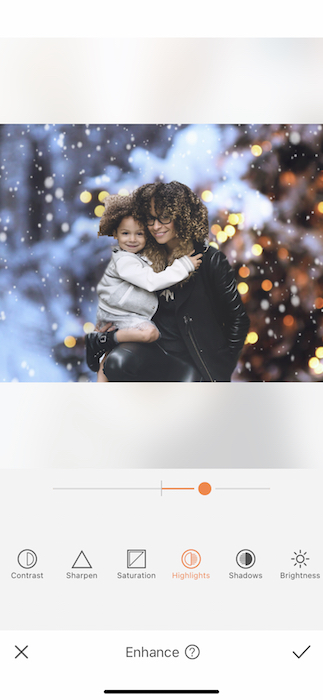 A good rule of thumb for any holiday hack is to always make a trip to the Enhance Tab. Here you'll get to make all the tweaks and turns you need for a flawless holiday card. A little increase in Brightness will lighten up your shot. Some Shadows will create some contrast and a touch of Highlights never hurt anybody.
Let it snow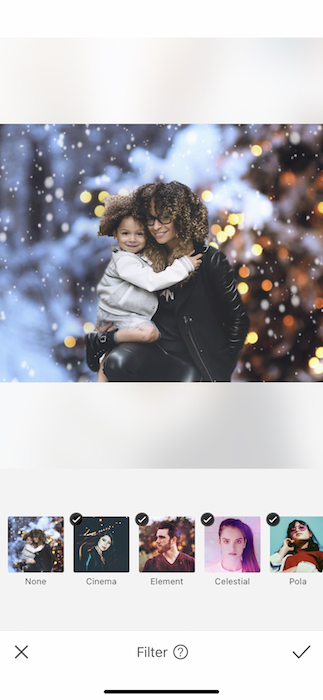 Now, we're in the home stretch of this holiday card marathon! First and foremost no good photo hack is complete without a gorgeous Filter. In our opinion it's a no brainer to tap on the Diamonds Filter and let your pic shine shine shine. We'll then make a quick U-turn back to our Tools Tab and throw a lil Vignette on our holiday card extravaganza. The Vignette Tool casts a shadow around the edge of your image to create a cozy, vintage look. This way you and your loved ones will glow at the center of all this holly jolly beauty.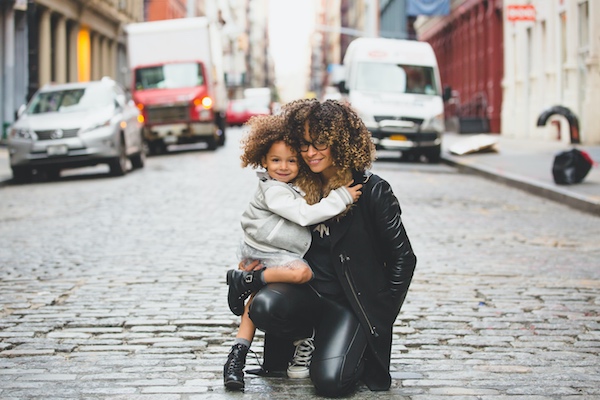 There you have it, folks! A holiday card to remember!. Do you love how your holiday card photo hack came out? Let us know by tagging #AirBrushApp on instagram and while you're at it give AirBrush a follow at @AirBrushOfficial. You might just end up on our feed! Now get on our there and show your friends and fam what's up with your gorgeous holiday card edits.