As the rainbow is to Pride, so is the red, white and blue to the 4th of July. To celebrate July 4th, we've gone in heavy on the color theme, so you're sure to find something you like. But for an RW&B color bomb, AirBrush has put together the perfect edit to show off your national pride for Independence Day!
Star-Spangled Makeup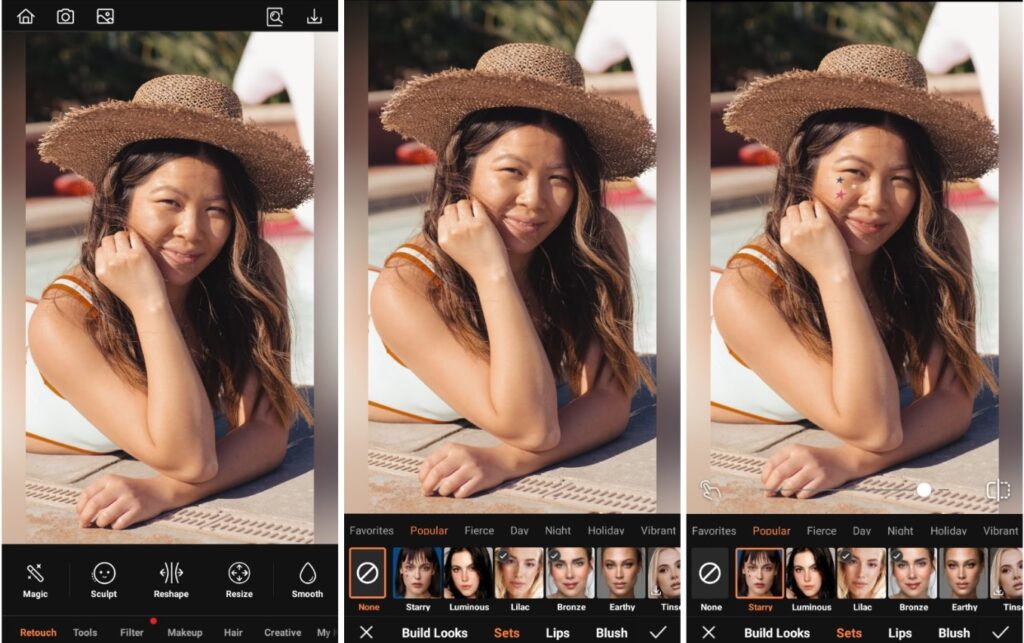 Face painting isn't just for kids and, when done right, it elevates looks on special occasions. The Starry Makeup look is one such case, with cherry shade lipstick and a red, white and blue star trio on the cheek. Try this Makeup look for a graphic option to celebrate July 4th.
Go to the Makeup Tab on the Main Menu
Go to the Popular category and choose the Starry Makeup look
Tap the checkmark to save your edit
Spark of Independence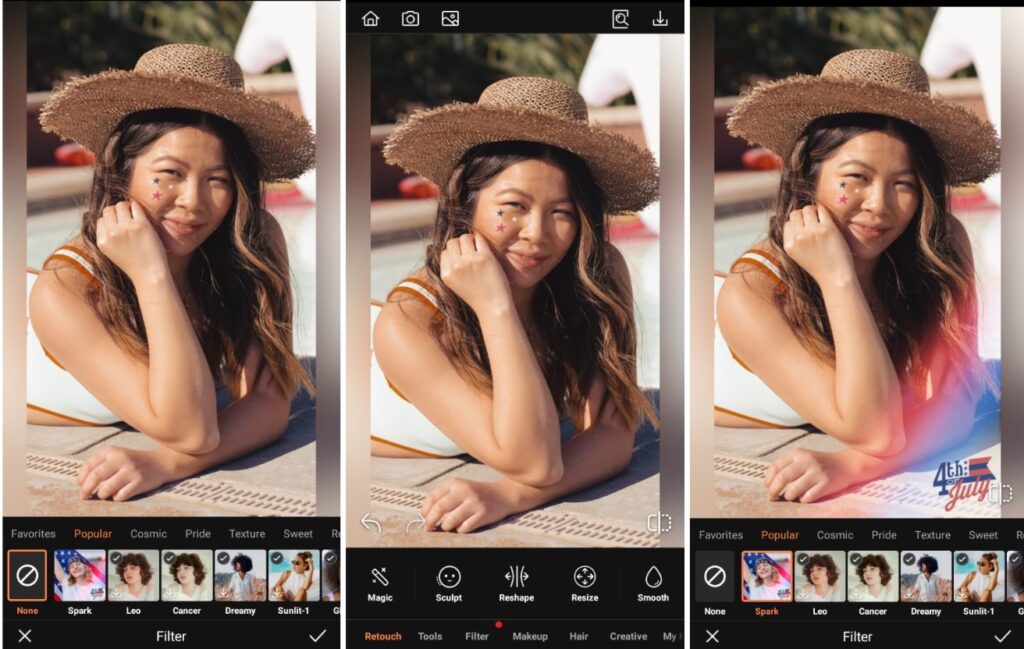 This July 4th edit dials it up a notch with each feature. That said, our next themed tool is the Spark Filter. Here we step away from the implicit to the explicit. Celebrate July 4th with an outright statement with this text-included Filter. Not to worry though, the text stays in the corner, so your photo remains the focus.
Go to the Filter tab on the main menu.
Choose the Spark Filter to apply
Tap the checkmark to save your edit
Save yourself a Thousand Words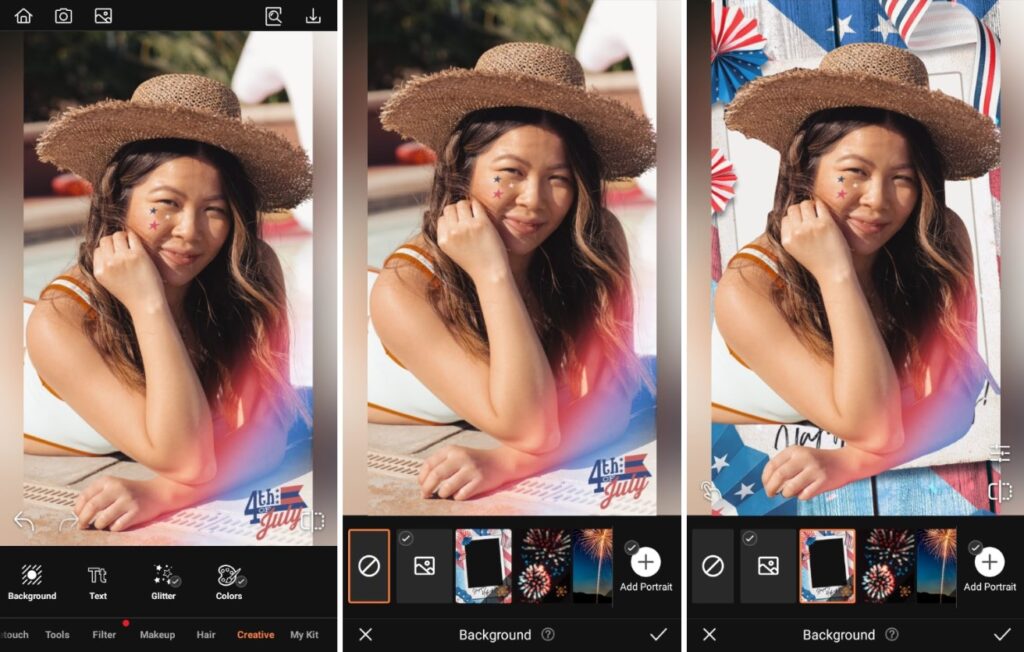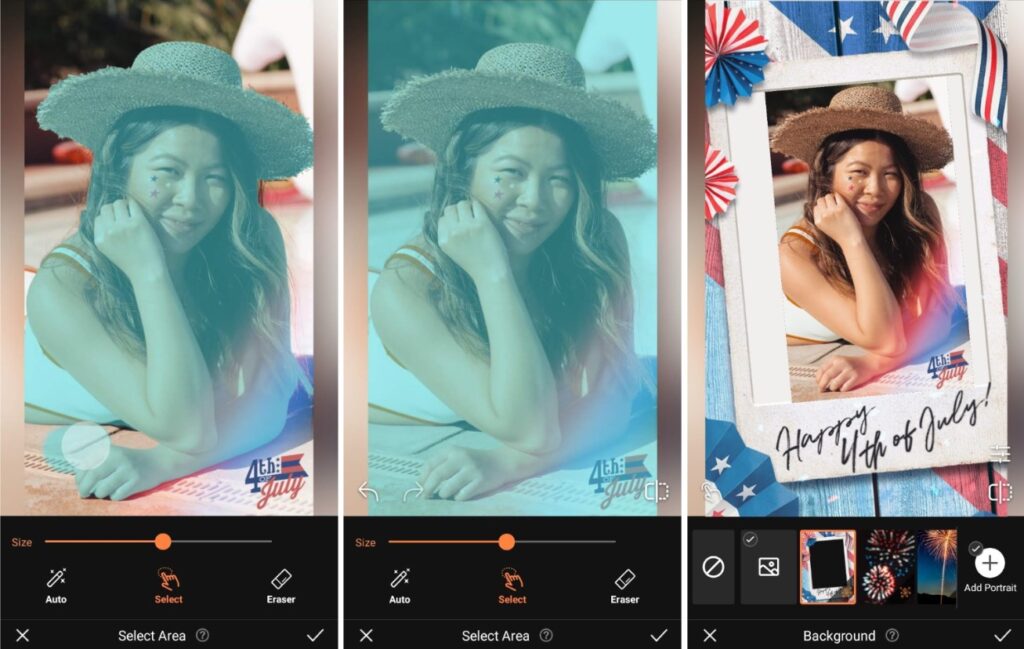 With our July 4th Backgrounds. When you edit your photo into one that's polaroid-esque, you call on feelings of youth, nostalgia and shared memories. Since July 4th is usually celebrated with friends and family, send them your photo if you can't be with them this year. Or you could post a group pic as a holiday greeting from you & yours to celebrate July 4th.
Go to the Creative Tab on the Main menu.
Select Background
Choose the first Background to replicate our edit.
Adjust the scale of the subject by pinching in and expanding out.
Use featurettes like Blend, Edge, Brightness, Blur or Eraser to perfect your edit.
Tap the checkmark to save your edit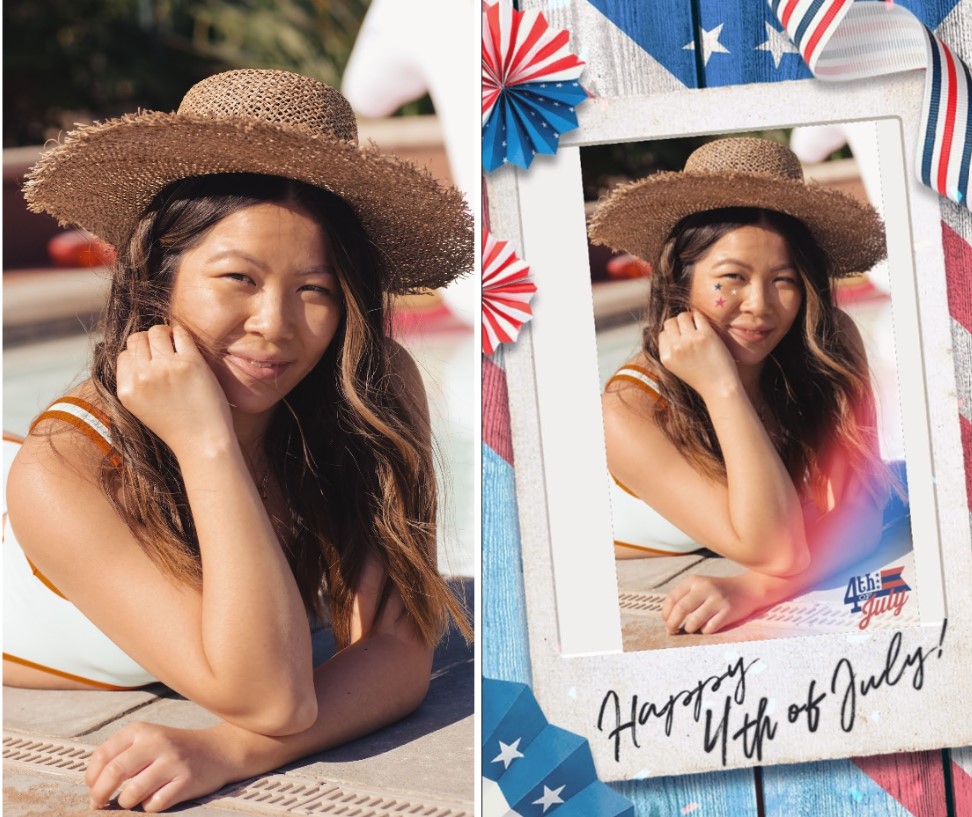 It's red, white and blue in one, two, three. These features go hard for the 4th of July holiday and we can't lie, we love the overkill. It's on theme, it's fun and there's no mistaking what you're celebrating. So when you do celebrate July 4th this year, be sure to use AirBrush the easy photo editor before posting your pics. Tag your creation with #AirBrushApp so everyone can find them. Then, follow us @AirBrushOfficial on Instagram for our latest tips, tricks and hacks!