It's official, America is on the hunt for its next drag superstar and we've got a fresh crop of delicious queens ready for the title. Being a drag queen isn't easy, darling. You need to have sickening looks, jaw dropping beauty, and of course… charisma, uniqueness, nerve, & talent. How could we ever get ourselves on the level of these dazzling Goddesses? Why, with just a few AirBrush edits and all the fierceness of an RuPaul's Drag Race queen, you too can rule the runway. Now, gentleman, start your selfies and may the best edit WIN!
A Fresh Beat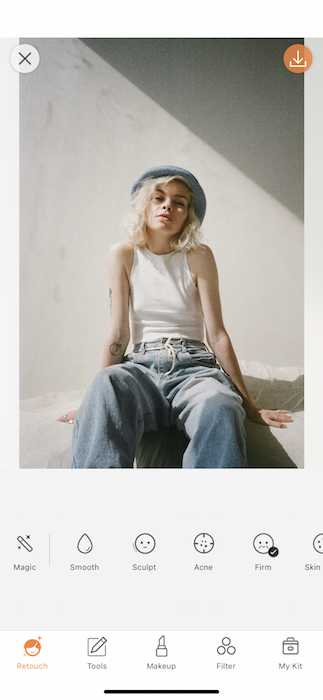 In drag, a beat face is equivalent to "your makeup is gorgeousss" and what makes a drag queen? A perfectly contoured & painted face. That's a department you never have to worry about with AirBrush. Our Makeup Filters leave little to be desired. From sophisticated metallics to bold deep red, we've got every face you could ever imagine. For today's beat we'll start off simple.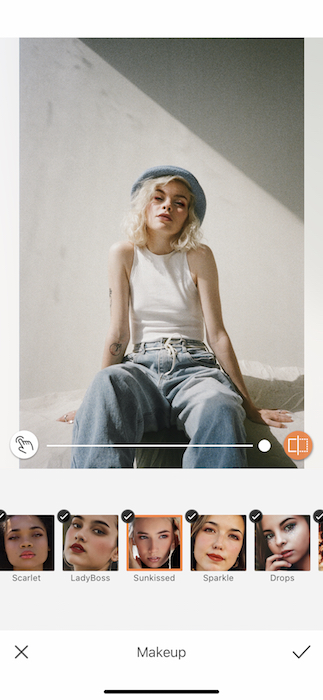 The Makeup Filters will automatically detect your facial features and apply the Makeup to your face. As you choose your favorite Filter you can adjust the intensity of each one by dragging the center toggle from left to right. For our fabulous Drag Race edit we'll be starting with something subtle but contoured. The Sunkissed Makeup Filter gives a gorgeous coral eye with a soft mauve lip. Seems good enough, right? WRONG! Tap that checkmark on the right and get back into your Makeup Library cuz we're layering today!
Subtlety is not a drag queen's strong suit. Layer on a second Makeup Filter. Something with pizzazz like the Drops Makeup Filter. Some glitter around the eyes never hurt anybody!
This is My Hair, I Don't Wear Wigs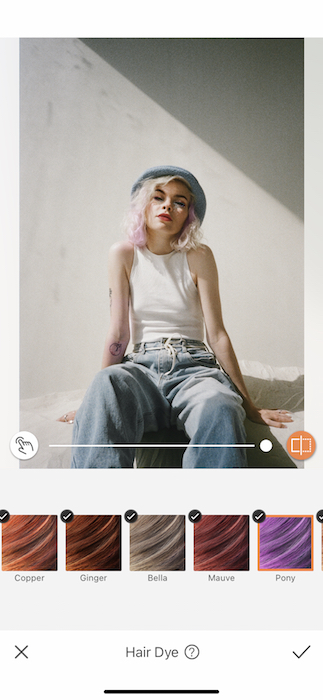 Now, everybody knows that a drag queen's second most important tool is her wig. We're here to tell you no lace front is necessary for this Drag Race fantasy. Tap your Hair Dye Tool from your Enhance Tab. There you'll find every gorgeous, queen caliber hair color you could dream of. We obviously want to go with something bold but what if the Tool missed a few spots on your first pass?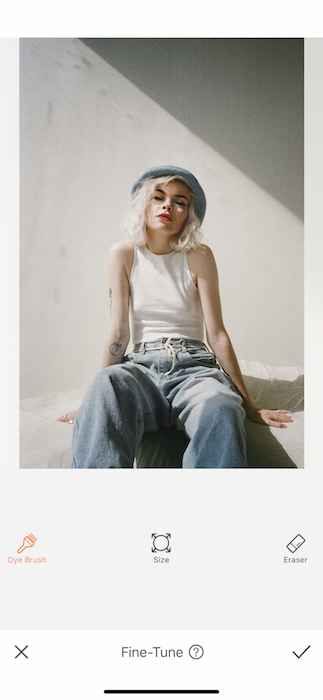 Tap the finger icon on the right side to open your Fine-Tune Feature. Here you'll be able to manually select all the weave the tool might've missed. You can start by tapping the Dye Brush Tool then use the Size Feature to adjust the brush size. You can also zoom into your image for easier access to the twists & turns of your lace-front.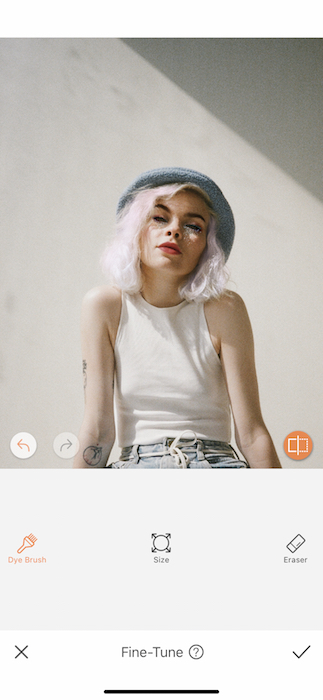 Once you're done with your dye job you can swap between hair colors until you find the one that fits your new Drag Race persona the best. In this particular case we might suggest going full throttle on each color by dragging the toggle all the way to the right but sometimes that could end up looking over processed. A queen never over processes her hair. Tap that check mark when you're ready and onto the next challenge, the look.
She's Fashion, Darling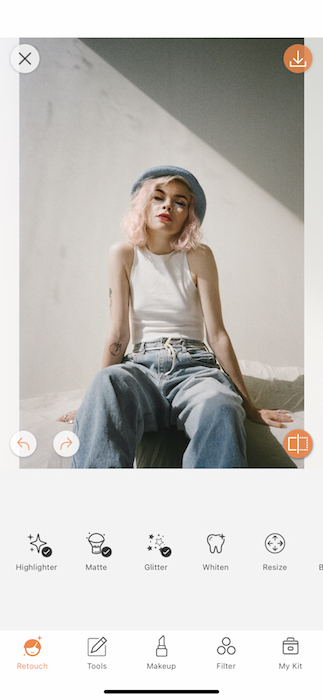 A true queen has a wardrobe decked out in AB crystals and sequins but chances are the gigs aren't ready to pay for that kind of couture. That's why we'll channel our inner crafty queen to create some custom creations of our own. Head to your Retouch panel to the Glitter Tool. On Drag Race, Glitter is as available as oxygen. We'll be "hand beading" our outfit by dragging the Glitter Tool across our regular shmegular outfit.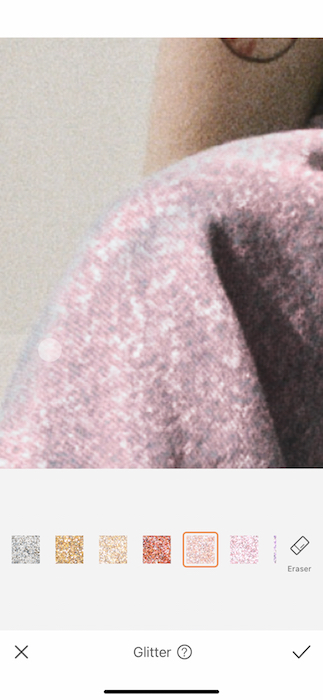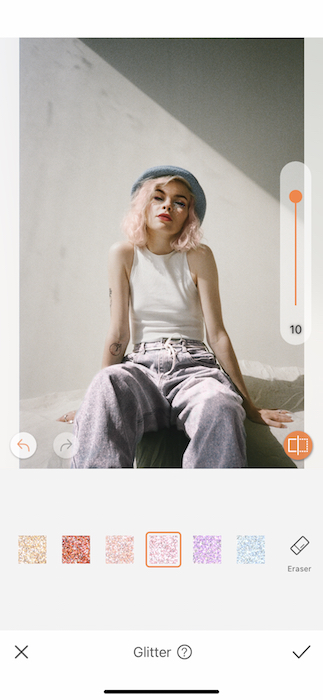 One of the more sickening features of the Glitter Tool is that you can switch between color swatches as you paint. Once you're done you can keep tapping away at each color until you feel runway ready. Tap that checkmark when you're done then… wait a minute…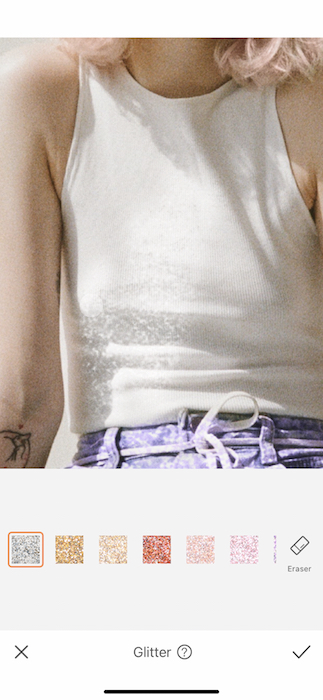 We couldn't possibly leave without the matching top! When you're done selecting your glitterable area you can use the toggle on the right hand side to adjust the intensity of the glitter. Today it's nothing but 10's 10's 10's across the board!
Working for the Back Row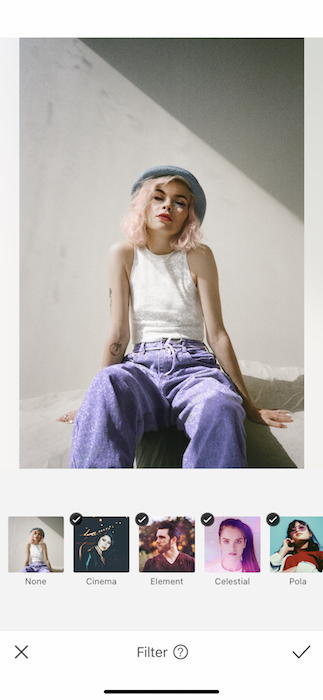 No Drag Race queen is fully a queen without a perfect Filter (or two…more on that later). Our look today is glittery ragdoll from space so why don't we take it all the way with the Galaxy Filter from the Element Filter Pack. For this voyage, however, we want to stay in the earth's stratosphere so let's adjust that Filter intensity to a simmer.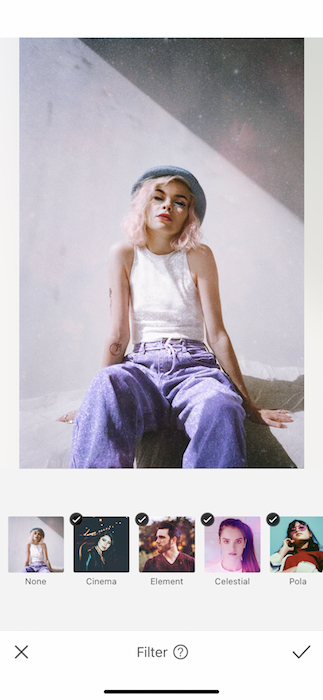 Just when you thought it was safe to go back in the water, tap back into that Filter Tab and show yourself a little Pride with the Pride Filter Pack. Nothing like a rainbow flare to let'em know the queen has arrived.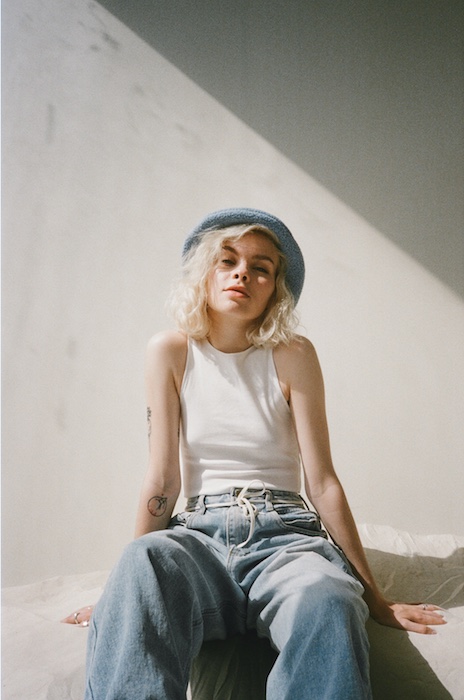 Attention, we've made our decision……. *intense background music* Shantay you slay. Con-drag-ulations you've completed your first day of Drag University and are graduated Magna Cum Honayyyyyy. Now go out into the world to be might, fierce, and gorgeous but don't forget to tag #AirBrushApp for a chance to be featured on @AirBrushOfficial as AirBrush's next drag superstar *~*~*~*