Some people just loooooove making their beloved friends and fam dress up in their ugliest garb to celebrate the magic of holiday tackiness. Sometimes they even have the gall to make it a competition. Well, while we all have our dignity we also have a healthy love of competition and won't let a year of stay-at-home realness get in the way of a trophy. That's why AirBrush is going to bequeath you with the skills to create your own digital ugly sweater masterpiece to show the 'gram that you're still a winner, baby! So, grab a basic sweater and snap a pic. We've got some ugly-ing to do!
A Blank Canvas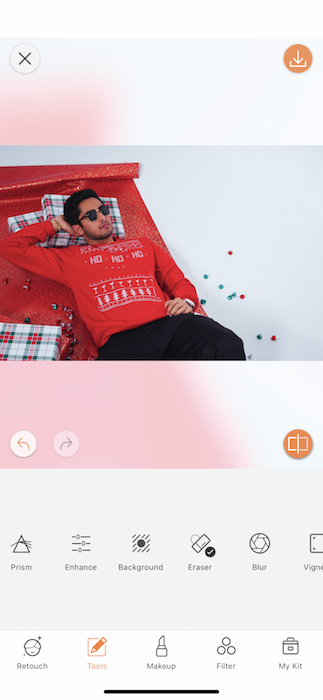 Our secret weapon today is the Background Tool. You can find the Background Tool in your Tools Tab in between the Enhance & Eraser Tool. When you open your Background Tool you'll find a bevy of gorgeous, pre-installed Backgrounds ready to transport your pic wherever your little heart desires. Today, however… We'll be doing something very different….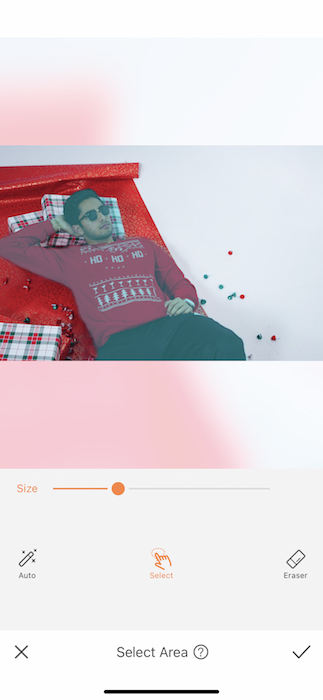 When selecting a Background you can tap the white button with the finger icon to adjust the Selected Area. This will allow you to adjust what stays and what goes when using your Background. What's our goal? An ugly sweater. To get there we're going to start by tapping the Select Tool and increasing the brush circumference to the maximum size.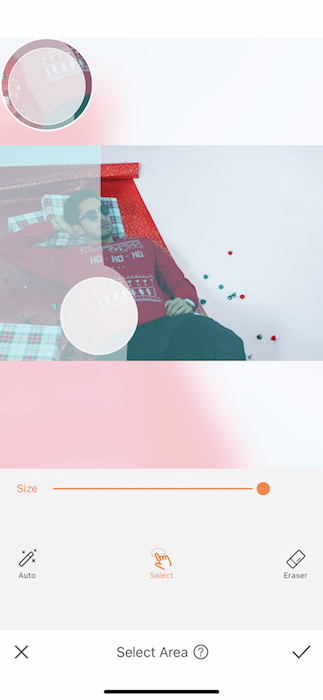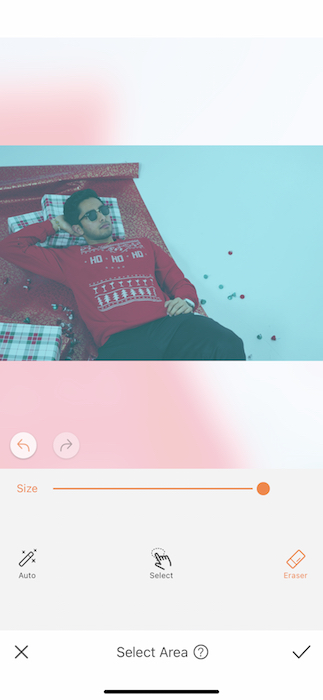 You'll then proceed to select the entire image. That's right, the entire image. Worried about the lines? WHAT LINES?! Once your entire picture is selected you should see it all highlighted in blue. You'll then tap the Eraser Tool.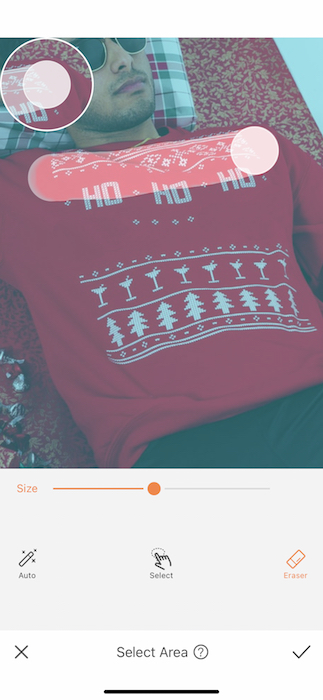 We want to use our sweater as a canvas therefore we will be erasing the middle of your sweater to then use the Background on. As soon as you're done you can tap the check mark and see the effects of your work on your future ugly sweater.
HO HO HO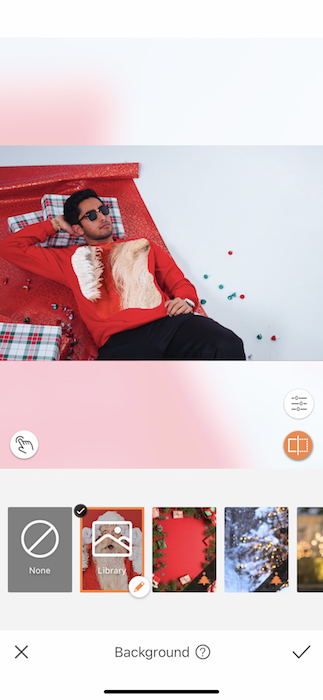 Winners don't wear off-the-rack. Use the Custom Background to upload your own holiday gorgeousness. In order to get the sizing correct we recommend pinching and resizing your upper image then doing the same with the background but also placing it where necessary to fit the sweater, then resizing your upper image to it's perfect place.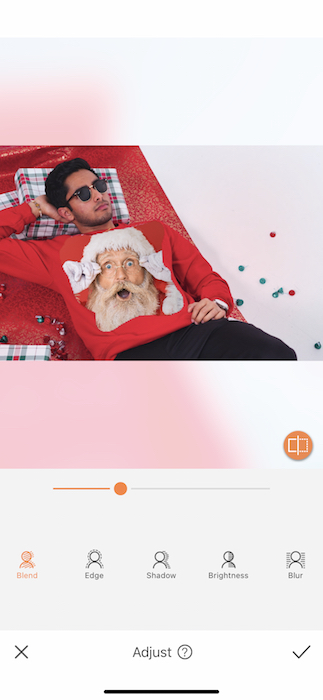 It is always recommended that you use the Adjust Feature on your Background to make it look as natural as possible.
The Fine Tuning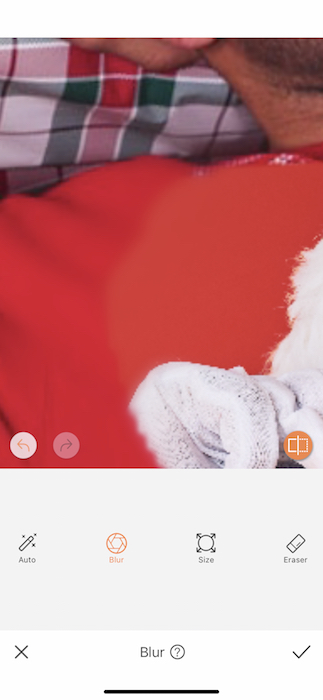 We recommend a quick visit to the Blur Tool to make sure we blend in our Background as much as possible. Adjust the Brush Size and zoom in to make sure you get all those subtle details picture perfect. Just because it's an ugly sweater doesn't mean it shouldn't get high qua-la-tyyyy.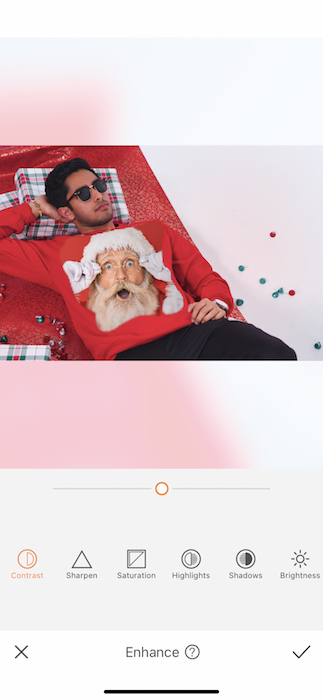 No good edit is done without some enhancements. Go to your Enhance Tools to Brighten, adjust the Shadows, and add a little definition with Contrast. Each tool is easily adjustable and if you ever find yourself over doing it you can always tap the X and start over.
Filter Filter Filter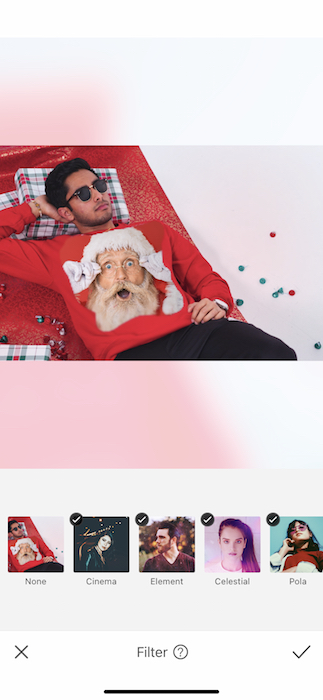 A winner always shines shines shines so, while you can choose from over a hundred different Filters we recommend the magic of Diamonds. This will let your competition know that while your sweater may be ugly it is still more glamorous and better than theirs.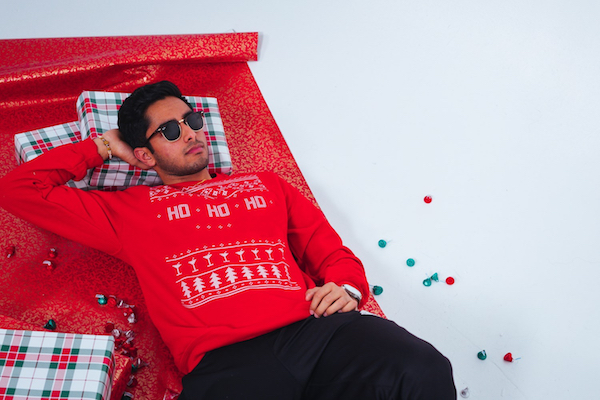 There you have it. A prize-winning ugly sweater the people will talk about for years and years to come. What will you do with this prize? Live as a legend for the rest of your life. That's what. Now, don't leave us in suspense all holiday long! Make sure to tag #AirBrushApp on instagram to show us what you created and while you're at it follow @AirBrushOfficial . You might just get posted on our stories!