Well we can't believe it… Our favorite family to keep up with is coming to an end. The Kardashians have graced our screens for over a decade and have influenced everything from beauty, to fashion, to the gifs we use on a daily basis (a favorite around here is 'You're doing amazing sweetie'). In honor of American television's first family we found Airbrush's top tools to get you KK fab in a dash by tapping into each sister's signature selfie vibe. By the time we're done you'll definitely be the most interesting to look at ;]
Everything's Coming Up Koko
The baby of the trio, Khloe Kardashian, has gone from the resident bad girl unfiltered to the family comedian and, arguably, the voice of reason. Just like everyone, she's had her up's & downs but always comes up on top (with a quick quip to boot!) While her past is covered in color we've seen that these days Khloe likes to keep things simple. As simple as black and white. I.e. if you check out Khloe Kardashian's instagram, she creates iconic family photos with black and white filters.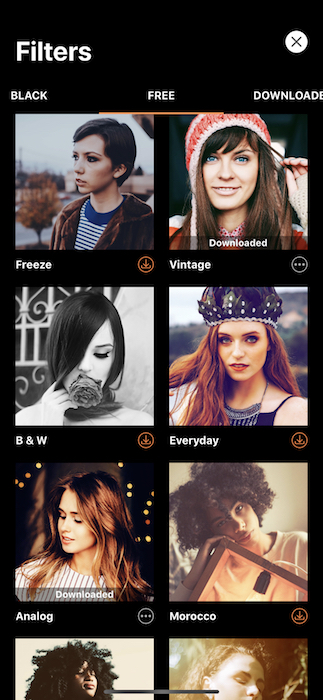 We start it all off with a visit to the Filter market. Here, you'll find all sorts of dashing filters to play with. For Khloe Kardashian we'll focus on the Malibu collection (fitting, right?). A series of 7 gorgeous socal vibe'd filters including a dreamy black and white filter, MAL-7. Tap on the Malibu icon and tap "Download" to add it to your filter collection.
Just try it on
Want to preview a filter collection before downloading? Swipe left on the images to see each one. All Filter Collections that you haven't downloaded will appear with a downward arrow in an orange circle on the bottom right hand corner of the thumbnail. When you tap on the thumbnail a window will pop up with a "download" button. Once you've downloaded the filter collection you can tap "use now" to… USE NOW!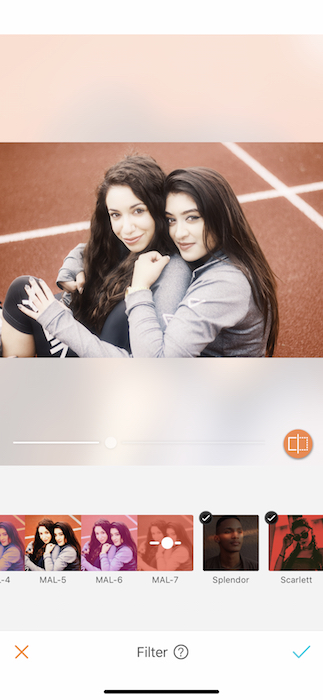 We're going to use MAL-7 to tap into that simple, sweet black and white Khloe vibe . Notice that you can adjust each filter by sliding the toggle from left to right. Want to keep a little color? Slide the toggle to the left. Ready to commit to the full grayscale, swipe to the right. Having trouble remembering where you started? Tap the orange icon on the bottom right to see the unedited image.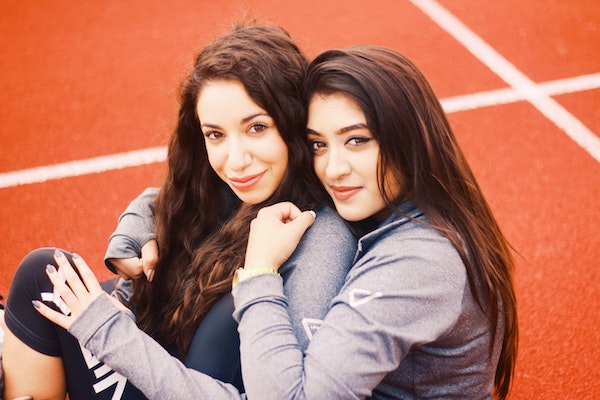 There you go! You'll have people wondering what fabulous Kardashian party you got into for these photobooth worthy shots.
Holding Kourt
It's no news that the oldest Kardashian sister likes to march to the beat of her own drum. Not tied down to being the freshest and trendiest, Kourtney enjoys a bit of a vintage vibe in her photos.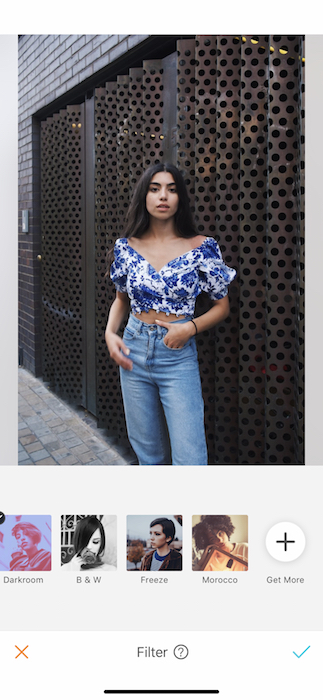 To create an iconic vintage film quality, let's go back to the filter market. This time let's play with the Morocco collection. This misty and wistful group of filters includes 5 different warm, desert-inspired vibes. To tap into Kourt's vintage sensibility we'll be playing with the MAR-2.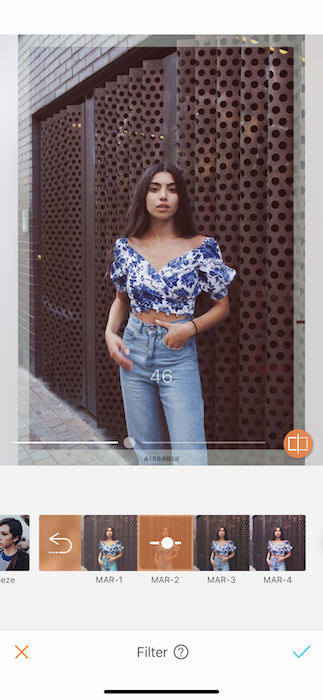 MAR-2 includes an authentic looking polaroid frame perfect for that getaway vibe of yesteryear. Kourtney may be famous for saying she doesn't mix business with pleasure but this filter gets right down to business and gives us all nothing but pleasure.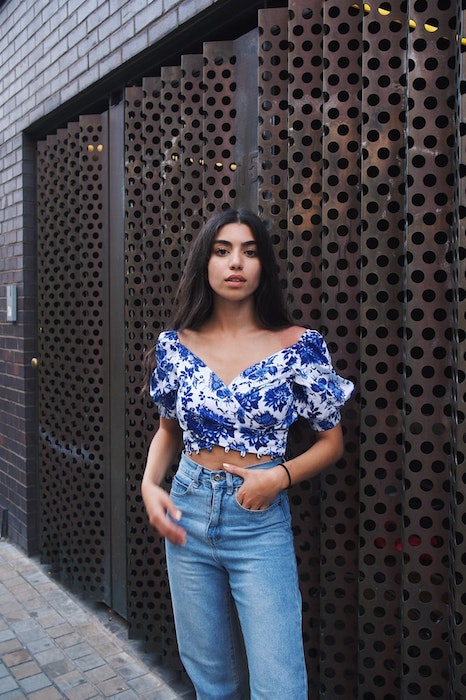 Everything's gonna be A-O-Kim-K
It's no secret that Kim Kardashian is the queen of glam. Would we all be walking around with this much highlighter if it wasn't for her? So, for the one that started it all we're breaking out the big Airbrush guns.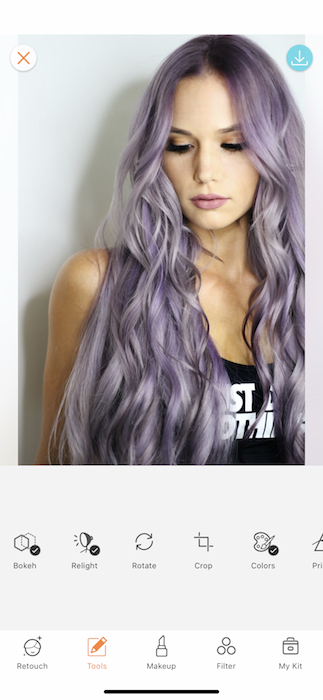 First and foremost, the Kardashians do not mess around with their lighting. Luckily, neither do we! Relight is the perfect weapon to keep up with our favorite Kardashian. The Relight Tool allows you to adjust the lighting on your gorgeous face. You can drag around the circle to switch up the direction and drag the toggle at the bottom to adjust the intensity. Want a deeper dive into the wonderful world of Relight? Check out our post How to Use: Relight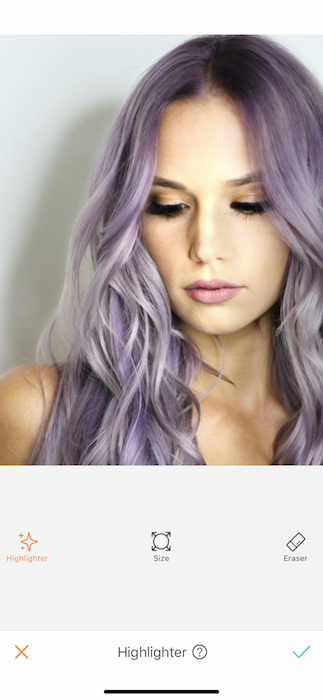 It's all about that Highlight
Kim is no stranger to some Highlighter. You can find this incredible tool in our Retouch panel. The Highlighter Tool allows you to adjust the brush size, go back and erase, and adjust the intensity using the center toggle. We highly recommend you supplement this lesson with our latest post on fall makeup tools.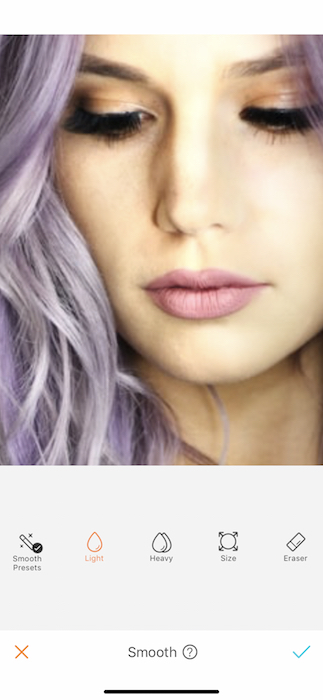 You can't look like a Kardashian without luscious lips. A quick tip for the perfect pouty lip is a quick one-two punch of the Smooth Tool and the Highlighter Tool. First you'll take the Smooth tool, adjust the brush to your perfect width, and smooth out the creases. Remember you can zoom in as far as needed to make sure you get each detail pitch perfect. Once those lips are perfectly pillowed you can jump back into the Highlighter Tool and give them the lip gloss treatment.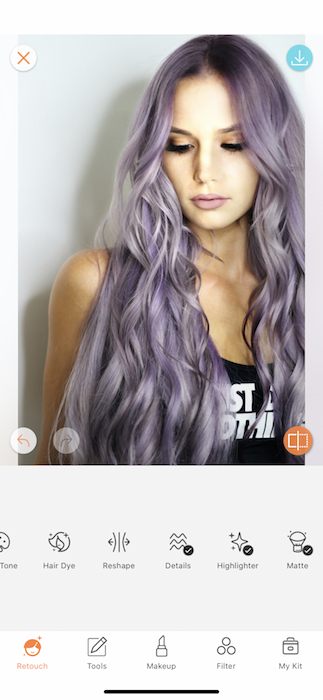 I am my hair
Lastly, we wouldn't be Keeping up with the Kardashians if we didn't do a quick hair flip. Use the Hair Dye tool to switch up to grey, blonde, or a classic Kardashian Raven Black. The Hair Dye Tool is a true technological miracle. For more on this amazing tool check out our post Hair Dye for Every Skin Tone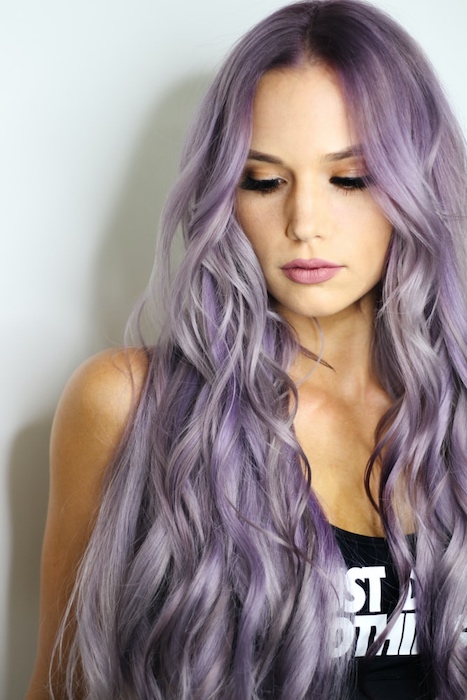 You really are doing amazing, sweetie! Now, you have all you need to become a social media tycoon, or fitness super star, or all around amazing sister. All the things that we loved keeping up with over the last 14 years. Now go out there and make some history of your own BUT don't forget to tag us in your next photo using the hashtag #AirBrushApp to be featured on our Instagram at @AirBrushOfficial. Keep tabs on our blog for more back to school editing tips and tricks!