It's international Hugging Day! *HUGS* Now, these days it's not as easy to embrace your fellow lovey. What to do when you can't wrap your arms around the ones you love? You send them a digital hug! Find your sweetest pic, edit it to loving perfection, then tag & post it for the world to see! There's nothing like sharing the love. Now grab your best buddy pic and get ready to create your very own digital hug!
It's Just Us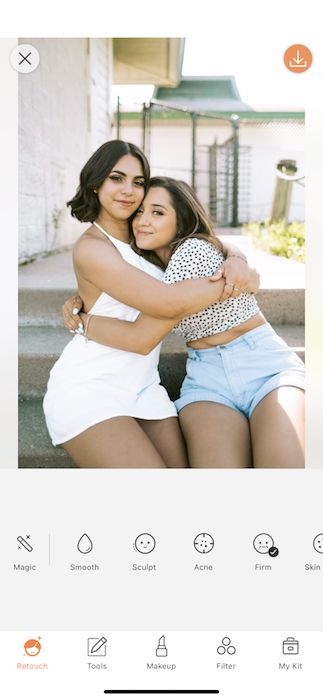 Listen, good friendships are hard to come by. When you find that right type of person that laughs at the same dumb things and doesn't judge your snort, it might feel like the whole world dissapears and it's just you two. Almost like a universal Crop. The Crop Tool makes sure your digital hug is the perfect proportions for wherever you're going to be posting it and also removes all the excess you don't need. Life is too short for excess that doesn't involve snacks or drinks.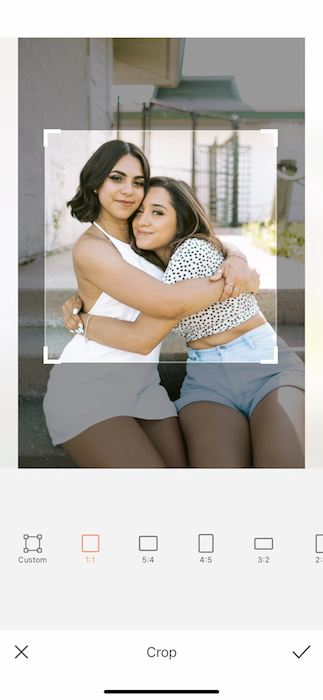 When you open your Cropping Tool you'll find a collection of preset proportions ready for any post anywhere. The square is a mystical, symmetrical, and totally efficient shape. It's perfect for the grid and therefore perfect for your digital hug. When your Cropping Cursors appear you can drag them to fit you and your lovey perfectly in the center. Tap the check mark on the bottom right to save your edit.
Makeover Sleepover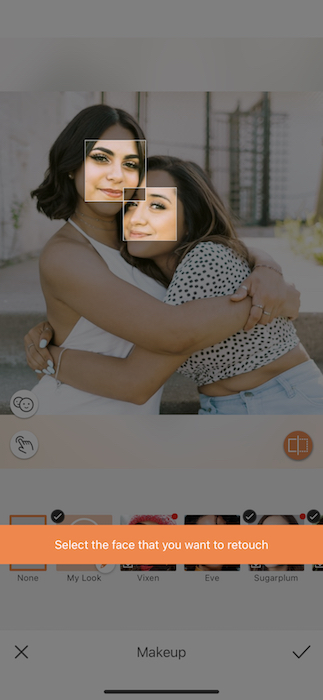 Remember sleepovers? And makeovers? Even just getting ready for the clurb? We can't wait to get back to all those things but in the meantime, your digital hug can bring you back to old times with Makeup. On the AirBrush app there are dozens of different & unique Makeup Filters that you can apply to any of the faces in your pic and also adjust how heavy the application is. Start off by tapping the Makeup icon on your tool panel. You'll notice that you are prompted to choose a face to apply the Makeup Filter to. Choose the one to start with.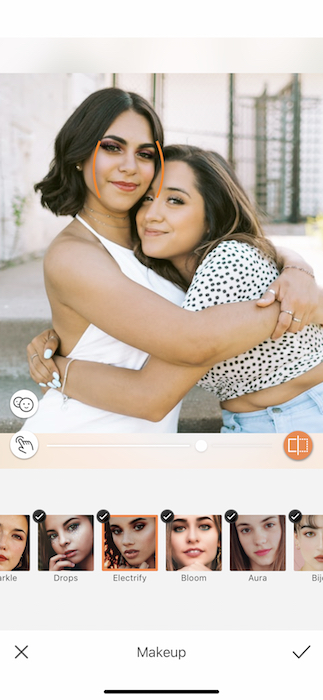 You can go through each of the Makeup Filters until you find the right one for your digital hug. As you go through make sure to play with the toggle to adjust the weight of the filter.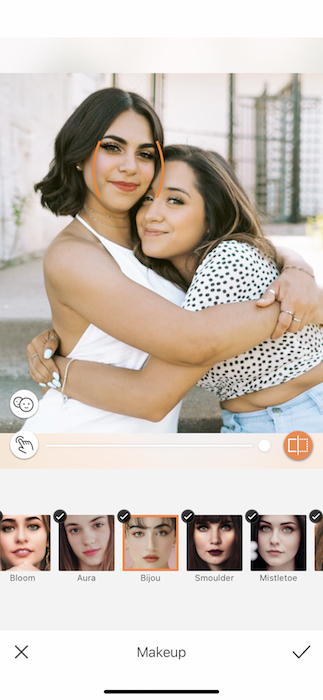 Notice the difference as you adjust the Makeup Filter weight. Tap the check mark on the bottom right to save your edits.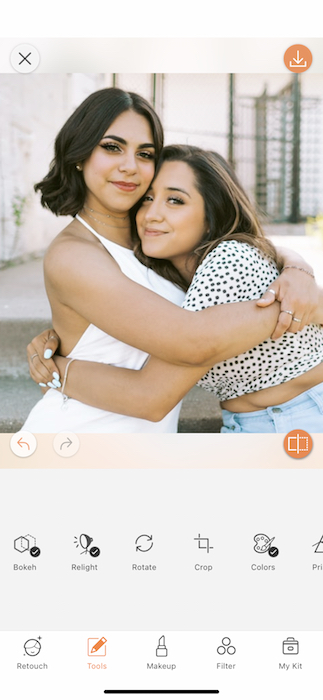 Once you've saved your progress you can tap the Makeup icon again to rinse & repeat.
Turn Around (every now and then….)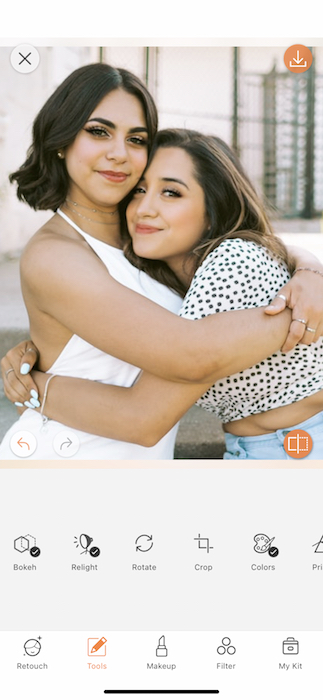 Who doesn't enjoy getting a lil extra with their edits? Tap on your Tools Tab and find the Prism Tool. The Prism Tool gives amazing movement with a subtle kaleidoscope effect.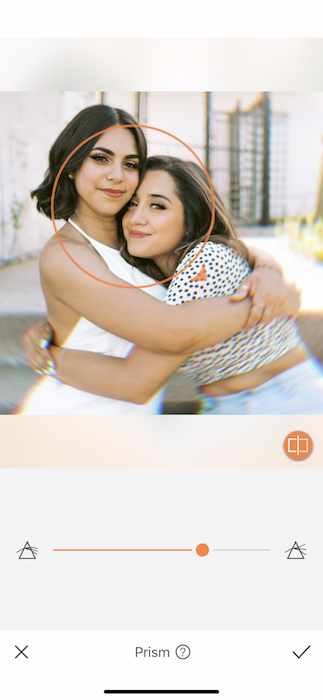 You can adjust the Prism Tool for your digital hug by dragging the focal point to you and your loved one's adorable faces. Drag the arrow on the bottom right to enlarge or decrease the focal point. You can then use the toggle to adjust the strength of the tool. As always, use the check mark to save your progress!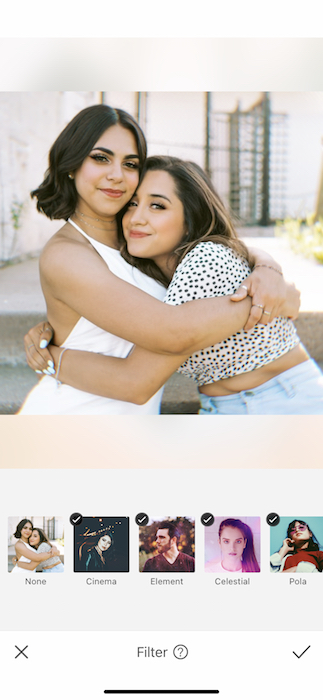 Filters are like a digital hug for your picture… if you think about it… Head on over to your Filter Library and find something dreamy like the Celestial Filter Pack. Apply the perfect pink haze to remind your friend of the true paradise it is to be in each other's lives (sappy but effective).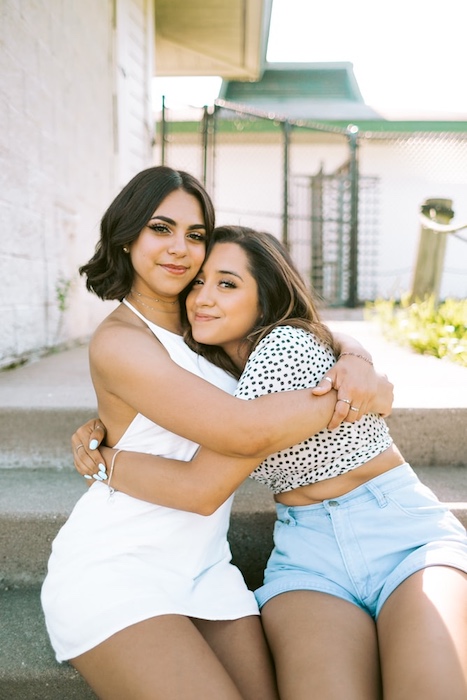 Bada bing bada boom I think what we got here is a gorgeous digital hug. Ready to travel the internet-sphere to your lovey's sweet eyes? Don't be stingy with the love now. Share your loving creations with AirBrush by using the hashtag #AirBrushApp and you might just get featured on the @AirBrushOfficial instagram page! Now go out there and give some love, we all need plenty of it.