Oh boy… we've all been here before. We're days away from Xmas and someone is not crossed off the gift list. What do you do?! Do you bust out your crayons and make them a book of coupons for hugs and back rubs? Do you hope they like chips from 7/11? Listen, here's the solution. Give the Gift of AirBrush Premium. That's right, the answer's been here all along! AirBrush Premium gives your loved one the gift of making awesome memories and editing them to perfection. Still on the fence? We've got 99 reasons why Premium is the gift that keeps on givingthis holiday season.
Dream Photos Come True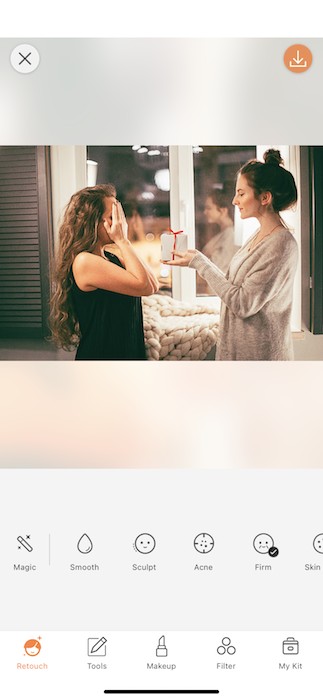 Do you ever wonder what it is that makes a pro photo edit… pro? Well you might think it's equipment and experience but sometimes all you need to do is have the right focus. To create depth in a picture it's important to make sure your focus area is sharp, clean, and all you notice in an image. For this we have created the Premium Tool: Bokeh. The Bokeh Tool allows you to melt away the background to create a gorgeous depth (and a gorgeous gift). Giving your image the pro treatment you've always dreamed up. How? Just watch.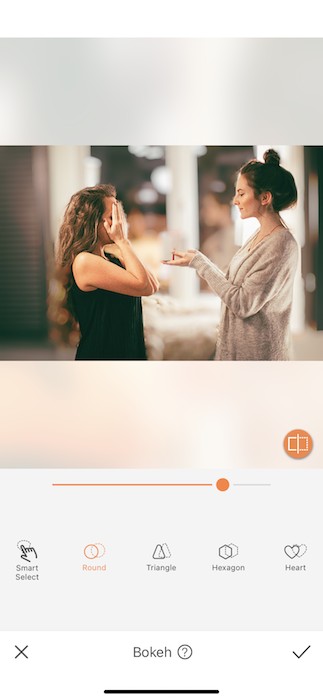 You can find the Bokeh Tool on your Tool Tab. Once you tap on the Tool you'll find that it has automatically selected the background and pixelated it in a round motif. Don't worry, we're not done yet. You might find that certain parts have been pixelated that shouldn't or vice versa. We'll now tap the Smart Select icon on the far left.
Get it sharp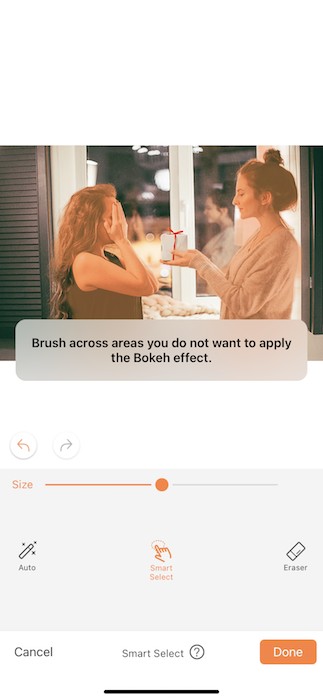 You'll notice a message that says to brush across the areas you do not want to apply the Bokeh effect to. You can start that process by adjusting your brush size to fit your area. For corners and details you'll want to decrease your brush size. You can then zoom in on the image to make sure you don't have to struggle with small areas.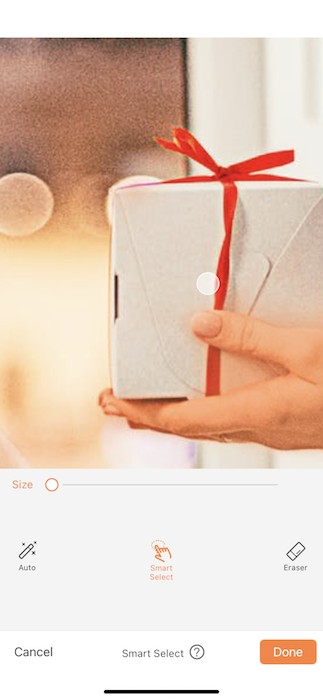 Once you zoom in on your image you'll be able to brush across the areas you'd like to select to not have the Bokeh effect applied on. Notice that we've provided a viewfinder on the top left corner to ensure you can see what's going on under that cute lil digit of yours. If you ever step outta line you can use the Eraser feature to clean it right up.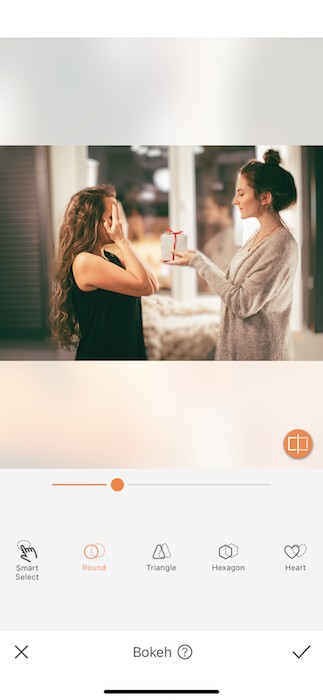 Now that you're ready to get the Bokeh gift party started you can start playing with the different motifs for your pixelation. You can choose between Round, Triangle, Hexagon, & Heart. These shapes are subtle and can be seen clearer as you increase the strength of the tool. You can adjust the tool strength by dragging the toggle from left to right. Sometimes all you need is a little Bokeh but other times it's fun to really go for it.
Creme of the crop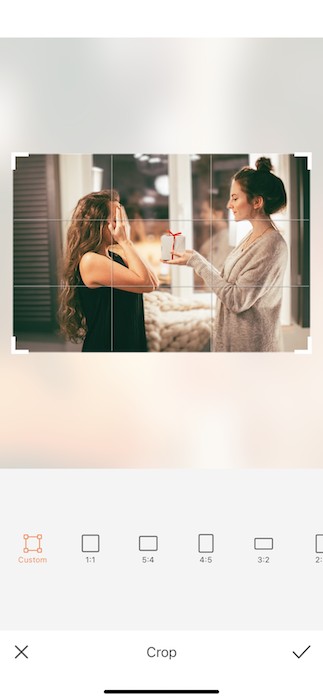 As you're working you might notice that your Premium edit might need a lil clip off. Head on over to the Crop Tool, still on your Tools Tab, and find the right preset proportions for you. Or you can use the Custom Crop feature to make your own shape.
The Diva's in the Details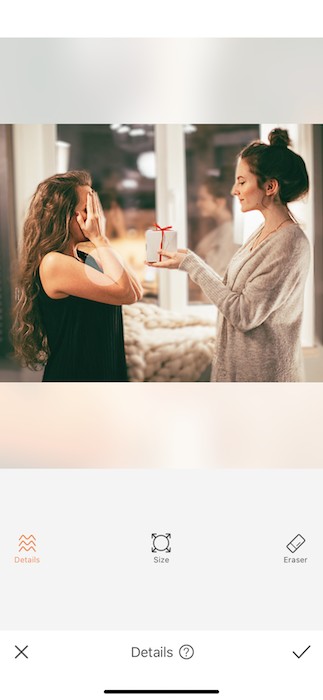 On your Retouch Tab is a magical Tool by the name of Details. The Details Tool sharpens the selected area and increases definition so your eye can rest right on it where it's supposed to. When you open your Premium new Details Tool you'll find an adjustable brush and an eraser feature. You can use these to select the faces of you and your loved one and even the gift box you're about to hand them. Once you've selected the area you can use the toggle on the right to adjust the strength of the tool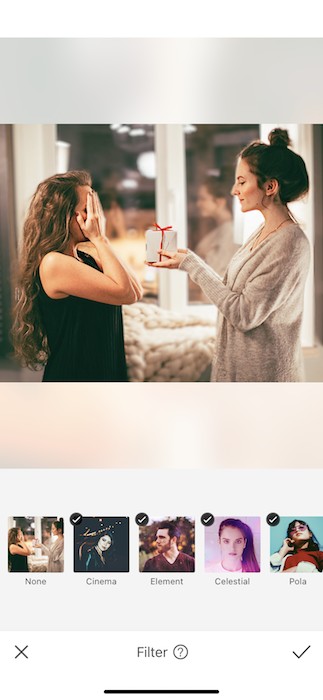 No gift edit is complete without a Filter! Now, we have plenty of perfectly good Filter available on our free version but the creme de la creme live in the Premium kingdom. One of which being the Monocle Filter Pack. These cinematic vibes Filters are the right amount of edge and cute and the perfect finishing touch to any picture. For today's masterpiece we're going with MON-4 and not looking back!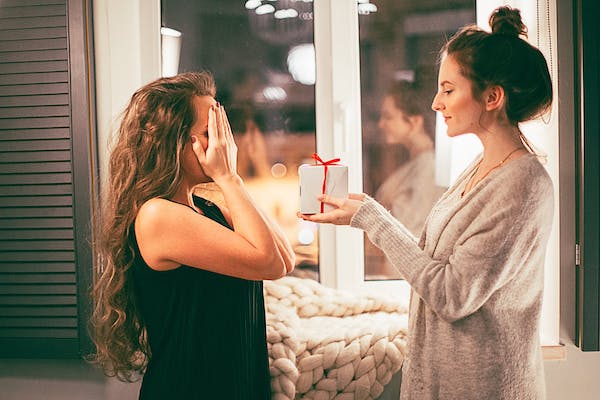 Ok we're going to pretend to be your friend receiving AirBrush Premium as a gift, ok ready?
What? For me?! No! What?! It's so beautiful! YOU'RE THE MOST AMAZING HUMAN EVER.
And, scene.
You did it. You won the holidays. Now that you've sharpened your AirBrush Premium skills, make your way into those holiday vibes. Make sure to use #AirBrushApp hashtag to be featured on @AirBrushOfficial! Happy Holidays, AirBrushers!.