Ready to hit the reset button and rejuvenate your look? Sometimes, a makeover is just what the doctor ordered. And when it comes to transforming your appearance, one simple change can create a major impact – your hairstyle. That's where AirBrush comes in! We've put together the ultimate guide to help you achieve a fabulous hair makeover, and the best part is, it's all virtual. Explore how our app empowers you to try out bold transformations, all before you even step foot in the salon. Get ready for a whole new you, one hairstyle at a time!
Step 1: Bang Bang!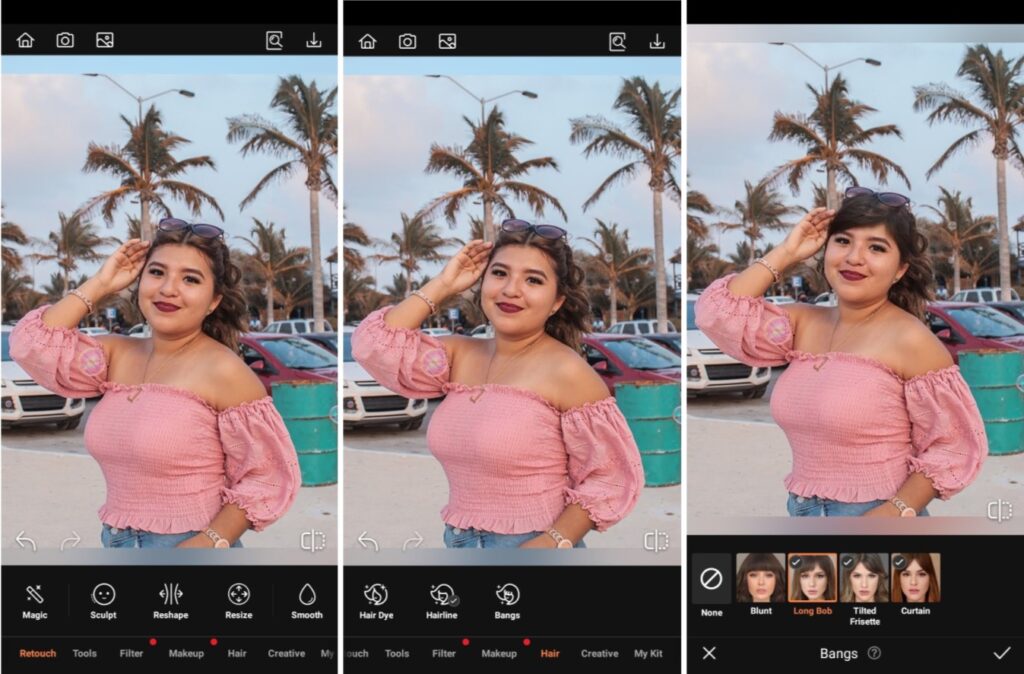 Whether it's your first fringe or a re-try from that awkward year in your teens, a bang makes a statement. What'll you'll want to pay attention to is choosing the right bang to compliment your face shape.
For heart-shaped faces go for wispy bangs which can be found in the Long Bob option. You want to focus on length over width and elongate from the forehead down. Thick, side-swept bangs work best For round-shaped faces and this can be accomplished with the Tilted Frisette. This bang type adds angular length to your hair and face, instead of accentuating the fullness of your chin, while also elongating your jawline. The long-faced among us are most complimented by a Blunt bang which is going to add the appearance of width and balance to a longer face. Finally, those of you with oval faces can get your hair makeover with our Curtain bang option. Honestly, the oval face shape can get away with a lot of different styles, so see how well this works for you. Here's how you get the look!
Go to the Hair Tab on the Main menu.
Select Hair Bang feature
Select the bang shape that best suits your face shape
Tap the checkmark to save your edit
Step 2: Cue the Color!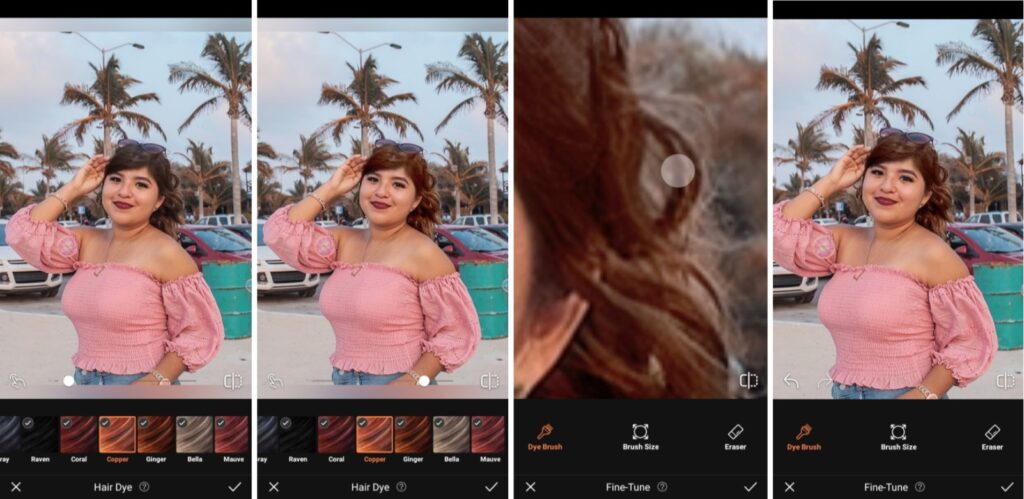 Whew! Don't worry, the bangs were the most involved decision. Choosing a hair color should be much simpler. The first thing to decide is how unconventional you're willing to go with your hair makeover via hair color. Does your day to day require you to be conservative or are you allowed to sport something eye-catching like Bubblegum or Evergreen. Once you make that decision, it's time to consider your undertone. People with warm undertones will look best in warm Hair Dye colors, whereas cool-toned individuals will be most flattered by icy colors. The best thing about the AirBrush Hair Dye tool is that by toggling the color intensity, you can usually find a shade that will compliment you and make you feel like a brand new person.
Go to the Hair Tab on the Main menu.
Select Hair Dye feature
Scroll through and select a color that suits you
Toggle the intensity of the effect by using the slide bar.
Perfect the edit with the Dye Brush and Eraser tool.
Tap the checkmark to save your edit
Step 3: Turn up the Volume!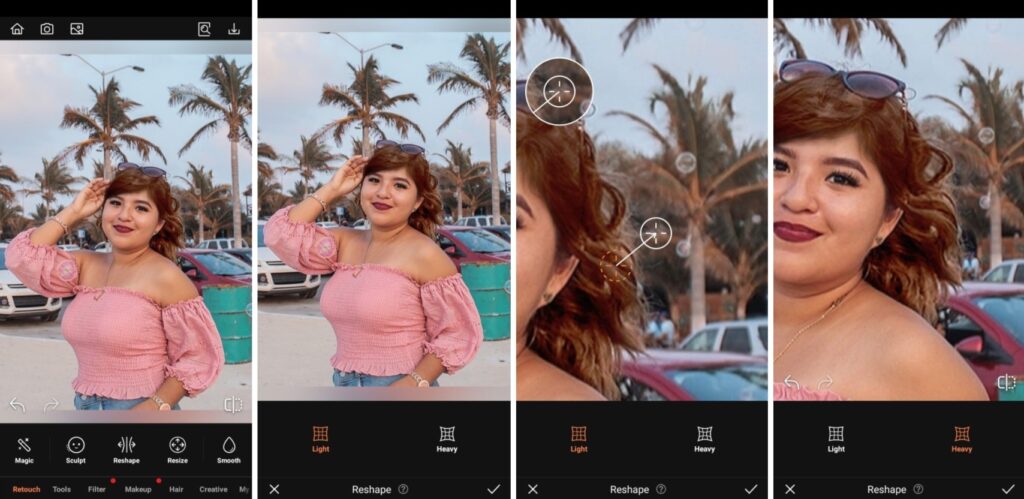 With the natural, low-maintenance trends we've all embraced over the last couple of years, the 2022 trends are tilting towards a bit more in terms of volume. There really aren't rules for volume except to go as big as you're comfortable with. Fill out your 70's beach bombshell waves or the cool-girl shag style which has made a reappearance on the hair trend waves. Bigger hair can be achieved with our Reshape tool which allows for the outward expansion of the selected area. And you know what they say, "the bigger the hair, the closer to God". So it's time to take yourself to AirBrush church and pump up the volume!
Go to the Retouch Tab on the Main menu.
Select Reshape tool
Select the Light for control or Heavy effect for quick impact
Toggle the intensity of the effect by using the slide bar.
Perfect the edit with the Dye Brush and Eraser tool.
Tap the checkmark to save your edit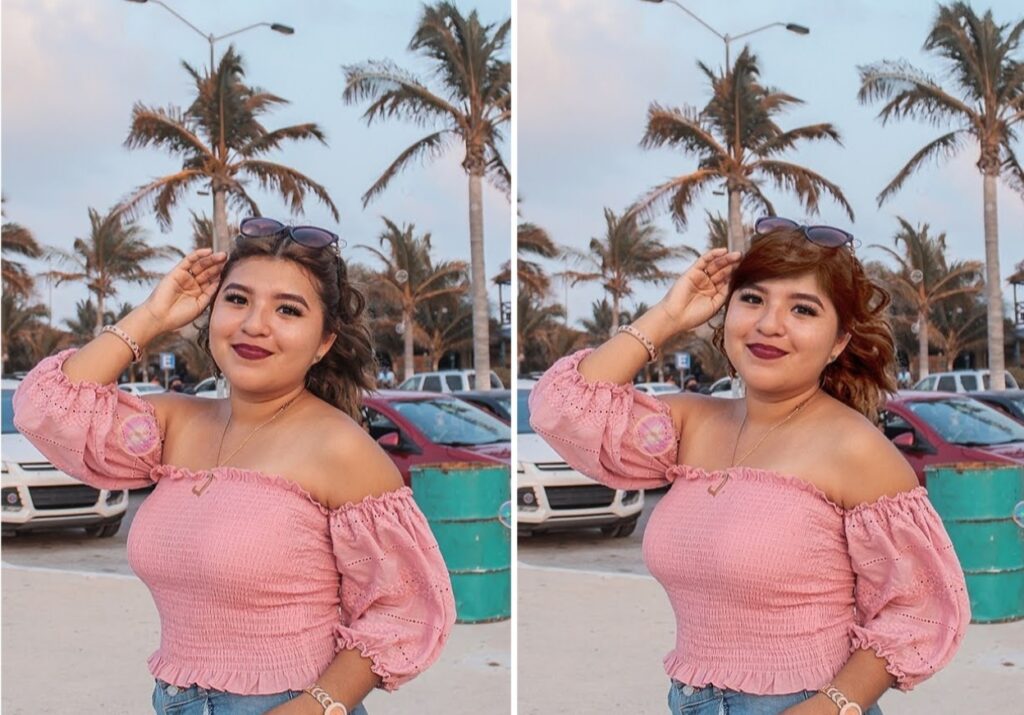 And that's how easy it is to get an epic hair makeover. Three steps and you can test out one or all three of these looks to get a whole new look. AirBrush, the easy photo editor, makes it super easy for you to try something new without committing on time or money, so honestly, there's hardly a better deal for Spring. When you want to crowd test your new look, tag your edited pics with #AirBrushApp so everyone can all find them. Then follow us @AirBrushOfficial for our latest tips, tricks and hacks!